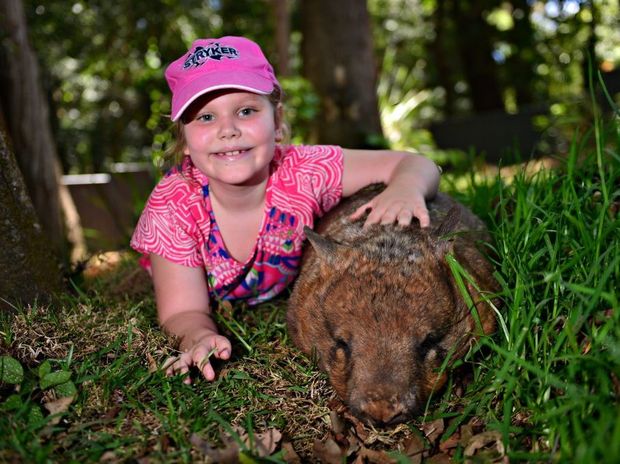 Wonderful wildlife and the wombat who prefers humans
Queensland Zoo's newest wombat is 13-years-old, but southern hairy-nosed wombat Grotte has no interest in running around and chasing boys.
Grotte was born and hand-raised on the Sunshine Coast but has spent most of her life at a special breeding facility north of Gladstone.
However, when breeders tried to pair Grotte up with a male companion, the 32kg wombat got shy.
GALLERY: Kids (and a photographer) meet some of the animals at Queensland Zoo
"Every time they introduced a boy wombat, Grotte preferred humans," Queensland Zoo CEO Jarrod Shenk said.
"She doesn't want to have any babies, she prefers to spend time with people."
Grotte's bashful personality might not bring her romantic success but Mr Shenk said it made her a perfect fit for the zoo at Woombye.
"She's ideal with us as an educational animal," he said.
"Because she's been hand-raised by people, Grotte's just really cuddly and friendly.
"Grotte doesn't like other wombats, they scare her a little bit, but she likes humans and that's fine.
"It's about not forcing an animal to be what it's not meant to be."
Visitors to Queensland Zoo can have a cuddle or take a picture with Grotte, with some of the proceeds going back to AACE Safe Haven, the breeding and wombat research facility where Grotte used to live.
"The profits will go back into wombat research," Mr Shenk said.
"It's the most successful wombat breeding centre in Australia.
"Wombats are notoriously hard to breed, we don't really try to do it at the zoo."
Mr Shenk said the northern wombat was critically endangered, with none in captivity, and research into Grotte's type of wombat, the southern, was essential to ensure they didn't become extinct.
"People can have encounters with her and learn more about conservation," he said.
Queensland Zoo, formerly known as Alma Park Zoo, moved from Brisbane to its new site at the Big Pineapple 18 months ago and is in the midst of rapid expansion, with plenty of other recent newcomers joining Grotte in their new digs.
Tobias the quokka has arrived from a sanctuary in Victoria and will join the zoo's new quokka breeding program.
"The breeding programs are really successful, there are lots of babies born on the new site," Mr Shenk said.
Three-month-old sugar gliders Luke and Leia are part of the new arrivals, as well as squirrel gliders Blossom and Willow who are around the same age.
The zoo also has baby monkeys, about the size of small possums, available for special hands-on monkey encounters, as well as resident cassowary Berrie, one of only 1000 cassowaries in Australia.
Mr Shenk said the zoo had made an effort to acquire animals that were interactive with humans.
"Seeing is one thing but once people can go in with them, that's what makes it a different experience," he said.
"You can go in and touch them and meet them.
"That's how people connect."
Source: Caboolture News