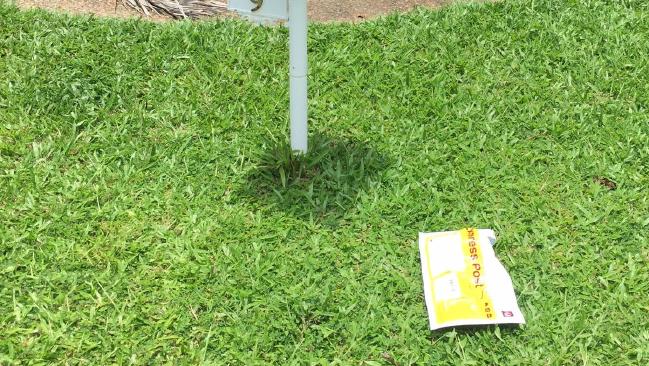 The public outraged and disappointed in Australia Post as they ditch Fragile Post Service
It seems there is no end to the frustrating stories Australians have to share when it comes to poor postal delivery service.
Late last year, Australia Post copped a storm of criticism after CCTV footage was published showing a Sydney courier making no attempt to actually deliver a resident's parcel.
Now, a married couple from Far North Queensland have a fresh horror story to share.
On Friday afternoon, Mark and Jharna Hogan were shocked after discovering a parcel worth thousands of dollars just sitting in the middle of their front lawn. They claim the driver had made no attempt to physically deliver the parcel directly to them.
Mark had taken the whole morning off to wait for this important parcel to arrive, as it contained hearing aids for his wife that had just come back from repair.
When he finally checked outside, it had apparently just been tossed next to his letterbox.
Mark took to Australia Post's Facebook page to complain about the incident, saying:
"This is a whole new level of incompetent blatant indifference to any level of service. There was zero effort made here! I did not accept delivery yet it says I did! The parcel easily fits in
the letterbox yet your delivery man simply threw it on the grass. Disgraceful!
"Raising your prices yet lowering your service, the question is is it possible to go any lower than you have today? Australia Post - You are the weakest link."
Jharna Hogan, his wife, was equally as unimpressed.
"It would have taken the delivery driver about ten steps to actually exit his vehicle and place the parcel in the letterbox," she told news.com.au.
"I can't fathom why the delivery driver thought leaving a parcel on the ground next to a mailbox (which had plenty of room for the parcel) was appropriate."
The frustrated couple said lax delivery processes were something they'd become accustomed to - a problem many Aussies can no doubt relate to, even when they had been home all day."We've had parcels left on our doorstep in the rain, on our deck in view of the street and inexplicably, in our garage behind the freezer, with no note left indicating that a parcel had been stashed there," said Jharna.
 "When talking to friends yesterday, it became apparent that we're certainly not alone in our
Australia Post experiences - one delivery driver thought the best spot to leave my friend's new NBN modem was on top of the garden waste bag, which thankfully wasn't due for collection by the garden waste company that day."
On January 4, Australia Post received approval to increase the price of regular postage stamps from 70 cents to $1.
Last year, the company reported a loss of $222 million, with its mail division losing $381 million as demand fell by 10.3 per cent.
Addressing the company's financial issues, the couple criticised it for "raising prices yet lowering service".
"I was amused to see that they're rolling out a campaign promoting that 'they love delivering' - given the ongoing poor service we receive from them, I'm thoroughly unconvinced that any of our local Australia Post staff do in fact love delivering, or working at all."
Mark's post fired up fellow customers on social media, who deemed the incident "shocking" and in "poor form".
One user said she "thought the photo was a joke until reading the post", and urged the couple to make a formal complaint.
Australia Post has issued the following statement regarding the incident:
Our staff take great pride in the timely, safe and efficient delivery of mail. When delivering regular parcels (parcels that do not require a signature), if the recipient isn't home we will check the delivery instructions.
When there are no delivery instructions and a signature is not required and nobody is home, the delivery driver will look for a safe location to leave the parcel. We call this 'Safe Drop'.
We would recommend that for customers who have urgent or important mail articles they use our Registered Post service, which requires a signature on delivery.
We will be in contact with the customer to investigate this issue. If customers have any concerns about their deliveries, we recommend they call the Australia Post Customer Contact Centre on 13 13 18.
Further woes for customers include the ditched Fragile Service.  When a customer went to post a Fragile item on Friday. The customer said to the worker at the post office " oh I better put fragile handle with care over the box" The Postal workers reply was was "Oh it doesn't matter we don't have a Fragile service any more".  The customer  said "oh really so even if I write Fragile all over the box it wont make a difference?"  The Postal Workers reply was " no I hope you packed it well" .
Source: Courier Mail