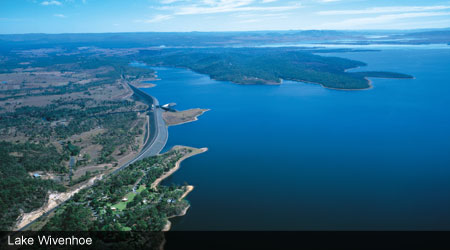 Somerset Dam and Wivenhoe Dam low Flow releases
To maintain the ongoing safe operation of Somerset Dam, the drinking water level will be lowered to 80% and a new flood operations strategy will be adopted.
To maintain the flood management benefits provided by Somerset and Wivenhoe dams, Wivenhoe Dam's full water supply storage volume will also be lowered to 90%. This will increase the temporary flood storage space in Wivenhoe Dam to allow additional flood waters to be stored, if required.
The dams will remain lowered until the upgrade of Somerset Dam is completed.
It's important to recognise that Somerset Dam managed both the 1974 flood, the largest since the dam was built, as well as the 2011 large flood event.
The dam levels will be lowered at a slow, controlled rate to minimise impacts to the downstream community. If a significant rain event occurs while the dams are being lowered, Seqwater will adjust its strategy to respond as required.
Releases from Somerset Dam will start on Wednesday 20 January 2016 and will be conducted for the next few weeks. Wivenhoe Dam releases will start from Wednesday 27 January to ensure there is time to advise local Councils and the community of the planned change.  Releases from Wivenhoe are expected to take up to 21 days (subject to weather conditions). Due to the low level of releases, it is not expected that there will be impacts to downstream bridges or crossings.
Wivenhoe Dam will commence low flow releases from 27 January for 3 weeks and with both dam releases there is no expected impact to downstream bridges or water flows.