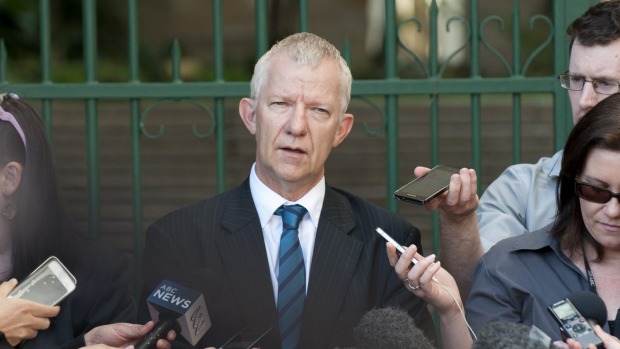 Queensland Resources Council: Don't forget the other 20,000 job losses
The Queensland commodities sector is facing unprecedented hardship in the wake of the boom that sustained much of the Australian economy in the 2000s, the head of the state's peak resources body says.
Queensland Resources Council chief executive Michael Roche said on Wednesday challenges facing the sector threatened a 60,000-strong workforce that had already been slashed by about 25 per cent in two years.
"I've been chief executive of the Queensland Resources Council for 10 years and I've never seen it like this," he said.
"People who have been in the industry for 30 or 40 years tell me these are some of the most difficult conditions facing our industry.
"So we need a plan from government that protects those jobs and gets ready for the upturn, because there will be an upturn."
Federal Minister for Employment, Senator Michaelia Cash, announced the Turnbull government would immediately provide $500,000 in career transitioning support for sacked Queensland Nickel workers.
"While the Government's immediate priority is to ensure affected employees receive appropriate support to find new employment, we remain focused on working with all stakeholders to promote key economic infrastructure in Townsville and north Queensland with a view to creating long term, sustainable jobs," she said in a statement.
And in Townsville on Wednesday, Premier Annastacia Palaszczuk convened a meeting with senior ministers and directors-general to discuss fast-tracking projects.
"In addition to the $61 million package of AWP [accelerated works program] projects in Townsville and Cairns regions announced on Sunday, the committee will discuss establishing a priority list of projects for the north and give them the green light," Ms Palaszczuk said.
Mr Roche said he had sought an urgent meeting with state cabinet's jobs committee over the perilous state of the commodities sector, claiming Clive Palmer and Townsville's marginal seats had placed a disproportionate focus on relatively few job losses.
Mr Roche said "a combination of the politics of Townsville and the Palmer name" had seen both the media and the government focus its attention on the plight of Queensland Nickel, which went into administration on Monday, and its 237 sacked workers.
Among the state government's responses to the collapse was a $61 million accelerated works program to boost employment prospects in the region.
But Mr Roche said while he supported the action in Townsville, 20,000 workers had lost their jobs in the past two years and it was vital that plans be developed to protect those still in the industry.
"Townsville has been suffering, but regional Queensland has been suffering from the job losses in our sector," he said.
"Cities like Mackay have had a much more severe impact from job losses, but there's no cabinet committee in Mackay and there's no plan for Mackay.
"What we want is a plan for regional Queensland, a plan to preserve the 60,000 jobs in the resources sector."
Mr Roche said not enough had been done during the heady, pre-GFC days to prepare for a downturn such as this.
"I think governments at both a state level and federal level always seem to be prepared to spend the money when it presents, so there's no money left in the bank to deal with some of these difficult times," he said.
"That is a big lesson for all governments out of this resource cycle."
But Mr Roche remained confident the sector would turn the corner within a year.
"What we have is a cyclical downturn – all the experts agree," he said.
"What we have is an oversupply in many commodity markets and eventually supply and demand will come into equilibrium.
"Probably, it's about a year away for most commodities. Demand is growing – people were bemoaning growth in China, but China grew by nearly 7 per cent last year and people say that's a tragedy.
"We would love to have 7 per cent growth in this country. We can see the growth in China, India and South East Asia and they want our commodities and we need to be ready to be a competitive supplier to those economies."
In the meantime, Mr Roche said commodity companies were in "survival mode".
"Companies are doing what they can to get through this most difficult time in the history of the resources sector to survive these difficult times and we need government to be a partner in that process," he said.
Source: Brisbane Times