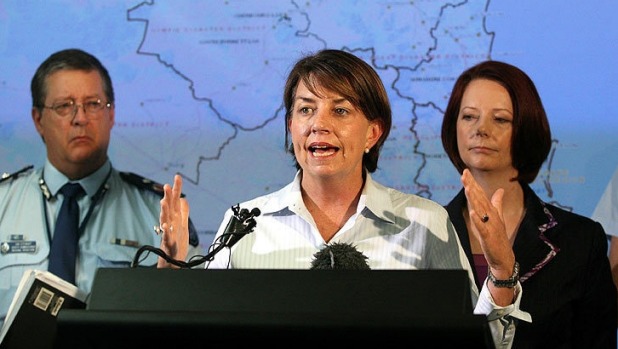 Queensland floods 2011: State like a 'boxer taking punch after punch
One of Queensland's finest hours started innocuously enough with a phone call alerting us to a Christmas Day cyclone.
Tropical Cyclone Tasha, our first of the season, was a relatively small system but brought with it a lot of rain when it crossed the north Queensland coast.
This pre-empted a series of events no one in living memory had experienced in this state.
The tragedy and widespread devastation of the following two months are still felt today.
Over the next two months three-quarters of the state would be disaster declared at any given time.
Ian Stewart, then-premier Anna Bligh and then-prime minister Julia Gillard update media during Queensland's 2011 floods.
Ian Stewart, then-premier Anna Bligh and then-prime minister Julia Gillard update media during Queensland's 2011 floods. Photo: Bradley Kanaris
Emergency services were at the highest level of alert for all but five days during this period.
The inland tsunami that led to terrible loss of life in Toowoomba and the Lockyer Valley had a major impact on the community.
As did widespread flooding that followed in the Ipswich and Brisbane areas.
Then north Queensland experienced two cyclones in quick succession, Anthony and Yasi, with the latter being one of the biggest systems to ever hit the state.
Despite the tragedy and hardship I will remember this period in Queensland's history for the immense community spirit that was on display.
The community responded with true resilience.
We saw numerous acts of selflessness, camaraderie and generosity as people helped each other from dawn to dusk.
Strong leadership was crucial to the community response.
The political leadership on all sides and in all tiers of government was exceptional.
The response efforts by emergency services, the military and various community organisations were exemplary.
It was a very challenging period for all Queenslanders and tragic for some but authorities have taken important learnings away from the experience.
The management of information flows, adoption of additional enabling technology and general safety efforts such as preventing people from entering floodwaters are just some of the areas that have benefitted.
Queensland was like a boxer taking punch after punch.
But that shared community spirit kept overcoming adversity to get the state back off the ropes.
It is this resilience and community spirit that is essential to withstanding similar events in the future.
At times of greatest peril people need to rely on friends and loved ones.
Only through community members taking personal responsibility can agencies such as police and the other emergency services most effectively look after those in most need.
That is why it is still so important for every individual where possible to be prepared for natural disasters.
Listen to the authorities and heed their advice whether it be about storms, cyclones or other potentially extreme weather events.
Together we have shown we can overcome great challenges.
Similar challenges will come again, hopefully not for a long time, but we need to be prepared.
Source: Brisbane Times