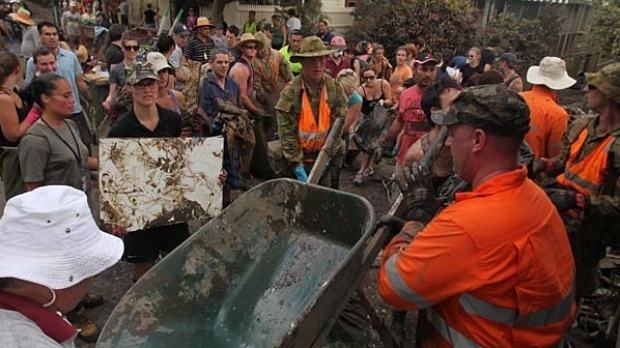 Queensland floods 2011: Counting emotional cost of 2011 flood emergency
As the five year anniversary of the floods that inundated thousands of Queensland homes and lives approaches, it's important that those affected continue to be supported.
As people prepare for another reminder, professionals say it is crucial that they also prepare for any negative thoughts they may experience.
Associate Professor Jane Shakespeare-Finch from Queensland University of Technology's School of Psychology and Counselling said anniversaries provided a time to reflect.
"The people of Brisbane have more of a heightened sense of fear when it rains now," she said.
"The large storm that occurred in Brisbane late last year really showed this."
She said anniversaries such as this would spark the memory of the event rather than a sense of fear.
"We must remember that the same event that provides post traumatic stress provides a catalyst for positive change."
Dr Susie Burke, a senior psychologist from the Australian Psychological Society agreed the anniversary would only spark negative emotions for a minority.
"Anniversaries don't tend to be as traumatic for everyone as people think," Dr Burke said.
"We have anniversaries to mark the event but many people don't focus on the adversity of the event and rather they focus on the positives."
She suggested people should utilise the psychological preparedness model of 'identification, anticipation and management' to deal with emotions before they arose.
"People need to identify the physical signs of distress and the negative thoughts they are having," she said.
"Once identified, people should try teaching themselves different thoughts to replace the negative ones."
Dr Burke said when people learned to consider ahead of time what they may be thinking when reminded of such situations their distress could be reduced.
"Friends and family who are good listeners are important social interactions if people find themselves becoming distressed," she said.
"GP's are also good places to go as they can easily refer you onto someone that can help."
If you or somebody you know is distressed phone Lifeline on 13 11 14 or Beyond Blue on 1300 224 636. For youth support contact Headspace via www.eheadspace.org.au/
Source: Brisbane Times