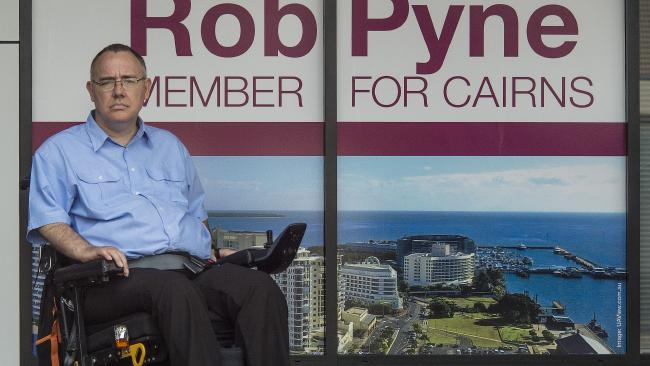 One man could bring down the Queensland Government Cairns MP Rob Pyne
Labor MP Rob Pyne is considering quitting the Labor Party, declaring: "I'm not going to be taken for granted."
The Member for Cairns said he cannot rule out walking away from the ALP if there is no sign his concerns will be properly addressed.
"If I can't have some significant influence in delivering for the people of Cairns, in particular, I certainly would consider it," he said.
Earlier this week, Mr Pyne said he could only guarantee voting with the Palaszczuk Government during the first sitting of Parliament. He later clarified his position by saying he was not actively considering quitting the Labor Party. Now, however, he says that is the case.
His departure would spark a major crisis for the Palaszczuk Government, which was left hanging onto Parliament by a thread after Billy Gordon was forced out of the ALP in the wake of various scandals.
"The result of my decision is that I might not be around much longer, but I'll be doing what I can to make sure that the voice of the Parliament is heard and the executive doesn't dominate," Mr Pyne said.
He has also taken aim at Deputy Premier Jackie Trad, saying her public rebuke last year after he aired concerns in Parliament about misconduct in local councils was a "significant factor" that contributed to his dissatisfaction.
At the time, Ms Trad said Mr Pyne would be "advised to pursue alternative actions that better serve his cause'', and she encouraged him to follow established processes.
Ms Trad declined to comment yesterday.
 Mr Pyne, who recently quit Ms Trad's Left faction, has also slammed Labor's factional system and the "extent to which the factions seem to be mainly used as a mechanism for career advancement".
"I think there is great pressure to silence MPs," he said, adding that he believed the same was true within the Liberal National Party.
 He said he had difficulty finding a voice with ministers and was concerned there was a "general problem" – not necessarily exclusive to the ALP – that some are listening to senior public servants at the expense of local MPs.
"I'd like to see some of the ministers take on their director-generals and take on the bureaucracy and show more of a drive to deliver for the regions, Cairns in particular," he said.
Mr Pyne told The Cairns Post that when the Premier promised hundreds of new jobs to Townsville in the wake of Queensland Nickel's collapse, there was something lacking.
"I've got to admit, when Clive Palmer's company went broke in Townsville, I just felt the need to remind the Premier that Cairns has strong unemployment," he said.
"I just want to make sure our city doesn't miss out and we get more of a focus, so if that means upsetting some of the factional bosses, I don't really care."
Mr Pyne said his concerns about the government's lockout laws proposal remained but he intended to "work on them within the parliamentary party".
And he was not concerned about potential repercussions of his decision to quit the Left faction.
"I would hope that as the premier of Queensland, really, this should have no effect.
"The parliamentary party consists of the same people so in a way I would hope that the premier has got more important things to do."
Labor holds 43 of the 89 seats in Parliament, compared with the LNP's 42, relying on the vote of Mr Gordon or the two Katter's Australian Party MPs to pass legislation.
Source: The Cairns Post