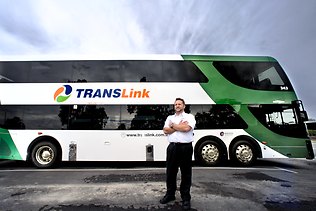 New-look timetable to drive better bus services for Moreton Bay community
The Palaszczuk Government today unveiled a new bus network and timetable that will deliver more buses and higher frequency services when the Moreton Bay Rail Link (MBRL) is opened mid-year.
Minister for Transport Stirling Hinchliffe said an extensive six-week community consultation was instrumental in shaping the plan for final network.
"More than 3,300 pieces of feedback were considered to design the new bus network and deliver the best outcome for the region," Mr Hinchliffe said.
"The changes to the local bus network will support the new MBRL train timetable and achieve a better integrated public transport network for the Moreton Bay region, delivering more high frequency buses and improving transport connections across the community.
"The new timetable provides connections to the new train stations, services new and growing areas and will ensure the network is easier and more intuitive to use.
"I would like to acknowledge the hard work of Queensland Rail and our bus operators Hornibrook, Bus Lines Kangaroo Bus Lines and Thompsons Bus Services who have worked hard to assist in providing new public transport options for the people of the Moreton Bay region."
Mr Hinchliffe said the new timetable would improve the way locals use public transport in the region. The new bus network features include: 
Upgraded bus network with an additional 261 services a week and a range of new options, including additional early morning and night-time services and an increased span of operating hours on six additional routes every weekday.
More buses on the weekends – with increased operating hours on eight routes throughout the region.
Better access to weekend buses – with 98 per cent of residents within a 400 metre walk of a Sunday service.
More daily bus trips – with an extra 157 trips each weekday and an additional 104 trips every weekend.
Higher frequency services during peak hour – 31 per cent of residents will be within a 400m walking distance of a high frequency service in morning peak. This is nearly four times the number of residents who have close access to these types of services now.
Mr Hinchliffe said the MBRL project will transform the region, delivering a 14 kilometre dual-track passenger rail line from Lawnton to Kippa-Ring and six new stations.
"When the line opens the region will see an extra 650 weekly express train services, trains every six to 12 minutes in morning and afternoon peaks and trains every 30 minutes in off peak and during weekends," Mr Hinchliffe said.
The Moreton Bay Rail Link Community Consultation report is available now on the TransLink website (external site). The report includes community feedback and details of all route changes.