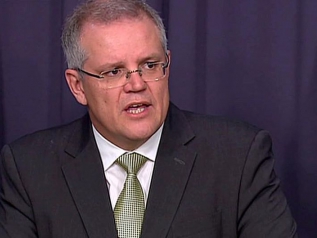 Morrison hints at 'tax mix switch'
Treasurer Scott Morrison believes Australia's tax system is 'holding us back' but won't say whether changing the GST is the answer.
Mr Morrison alluded to a 'tax mix switch' ahead of the government's long-awaited tax white paper, which he says will be put to voters before the next federal election.
'A tax mix switch, one that acts seeks to actually reduce personal income tax burdens and hopefully potentially reduce corporate tax burdens, is one that can support grwoth in the economy,' he told the ABC.
The treasurer said Australia's tax system relies 'very, very heavily' on income tax and company tax compared to the rest of the world.
The treasurer praised South Australian Premier Jay Weatherill, who has proposed changes to the GST, for 'making a bit of sense', but has refused to back any change to the consumption tax.
Mr Morrison is confident state treasurers will be focused on how to grow the economy when they meet in February, even if they have different views on how to achieve it.
'We'll just continue going down that process,' he said.
'I'm not going to make predictions about it.'
State economies were undergoing change as the mining boom wound down, with NSW taking over Western Australia as the powerhouse of the national economy, he said.
'One thing I know that can support growth right across the country is a tax system where personal income taxes don't punish people for working more, saving more and investing more.'
Mr Morrison says there's a 'good story' about the Australian economy, despite global volatility.
More than 300,000 people got a job last year, business conditions have rebounded, interest rates are low, households are ahead on their mortgages and the lower Australian dollar is good for tourism and exporters.
He downplayed fears of a Chinese slowdown saying there was a 'synchronisation' happening between Australia and the world's second-largest economy, both moving toward services-led growth.
Although China's annual economic growth had slowed to 6.9 per cent, there was 50 per cent more purchasing power coming out of China than in 2010, when it was growing at more than 10 per cent, he said.
'We need to get the China story in a bit of perspective.'
Source : AAP