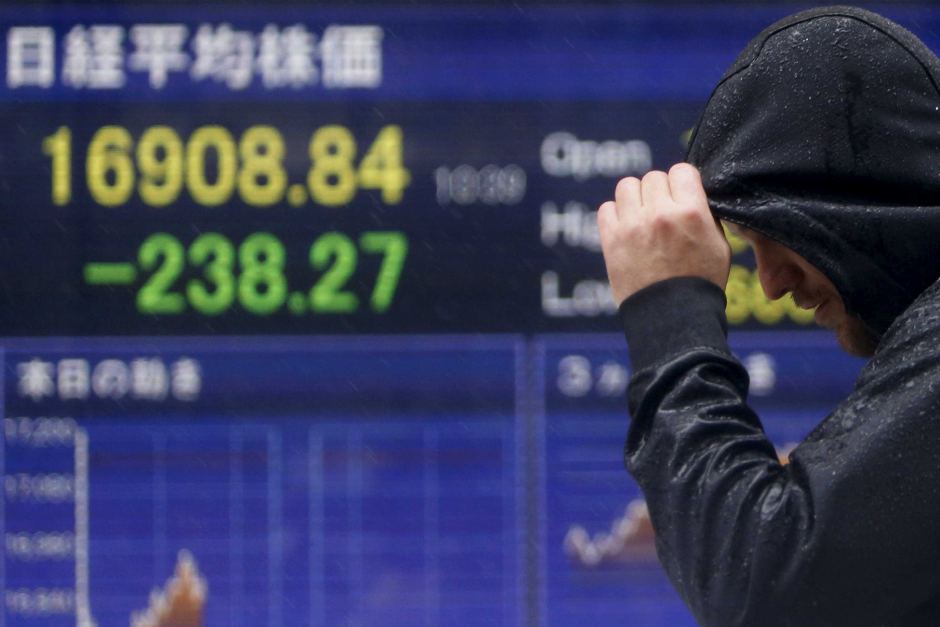 International markets plunge as investors fear global economic slowdown
Global equity markets have fallen further into the red, dropping to their lowest levels in two-and-a-half years, as oil again tumbled to 13-year lows.
Billions were wiped from US and European markets, with the price of US crude oil plunging to $US26.30, the lowest figure since May 2003.
It comes as the Australian share market closed on Wednesday near its lowest level in more than two years thanks to a slump in the price of oil and relentless bad economic news out of China.
The MSCI World equity index slumped 3.4 per cent to its lowest level since June 2013.
Key factors driving market weakness
1.The fall in oil and commodity prices in general, which markets are interpreting somewhat as a signal that global demand has weakened;
2. Concerns about the growth outlook for China, where China's growth is continuing to slow down and the world is getting nervous;
3. The Fed lifted interest rates in December and the market is absorbing the likely impact of higher interest rates on those emerging economies that have got a lot of exposure to US-denominated debt;
Two sides to falling oil price
"A fall in oil prices is a boost to supply; that is we've got more oil, pushing the oil price down and that means petrol prices fall, that boosts disposable incomes for households and boosts profits for those industries not exposed to the mining industry.
"But at the same time it is not good news for oil or commodity producers in general and what we've got is a whole range of emerging economies in recent times that have been a key driver of global growth, that have been very reliant on the commodity prices, so as the commodity prices are coming down, the industries are coming under more and more pressure and interest rates are rising which means it's costing more to fund themselves and they have less revenue to do it."
The index had already dropped 11.1 per cent in January, which if sustained would be the worst monthly loss since October 2008 — the month after Lehman Brothers went bankrupt.
There have only been steeper monthly drops three times in the last 28 years, two of which occurred during the 2008 financial crisis.
The declines left the index down 20.5 per cent from its high on May 22, confirming a "bear market" where falling share prices encourage further sell-offs.
Wall Street tumbled more than 3 per cent, with each of the 10 major Standard & Poor (S&P) sectors down more than 2 per cent, led by a drop of almost 6 per cent in the energy sector.
Nearly 200 stocks in the benchmark S&P were down 20 per cent or more from their 52-week high.
The Dow Jones industrial average fell 3.14 per cent, the S&P 500 lost 3.15 per cent and the Nasdaq Composite dropped 2.83 per cent.
"The damage being done in energy is spreading," ITG New York head of sales trading Brian Fenske said.
"Just getting up every morning and seeing the S&P futures down 1 to 2 per cent has a near-term psychological impact and puts some investors into risk-off mode."
US crude plunged to a low of $US26.30 after the International Energy Agency warned the market could "drown in oversupply". Both West Texas Intermediate (WTI) and Brent crude dropped to $US26.59 and $US27.38 respectively.
Europe, Nikkei further in the red
Oil shares in Europe are down more than 14 per cent already this year and at their lowest levels since March 2003.
European shares closed at their lowest level since October 2014, with the FTSEurofirst 300 down 3.3 per cent, to notch its biggest single-session decline in six weeks.
France's CAC and Britain's FTSE both tumbled more than 3 per cent for their worst session declines of the year and Germany's DAX lost 2.8, for its worst daily drop since the first trading day of 2016.
Another key commodity, copper, slipped 1.1 per cent, driving falls of 5.2 and 5.1 per cent respectively in Europe's basic resources and energy sectors.
That has been a major weight on the FTSEurofirst 300, which is down nearly 12 per cent in 2016 and more than 23 per cent from its high in April.
The Nikkei share average shed 3.7 per cent to its lowest close since October 24, 2014.
Source: ABC News