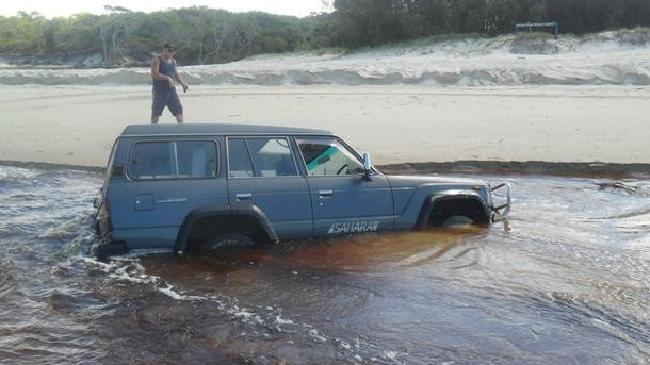 Have fun, but stay safe on the sand say Bribie Island police
When  it comes to things that can go wrong when driving on the beach, Bribie Island Police have seen it all.
With up to 2000 vehicles using a 25km stretch of beach on the island over a weekend, for police, bogged vehicles and burnt-out clutches can be all in a day's work.
Bribie Island Police Senior Constable Christopher Bird said it was best people took part in a four-wheel-drive course before heading on to beaches.
"Or you could end up with a burnt-out clutch or getting bogged," he said.
"People who are trying (beach driving) for the first time generally end up in trouble."
Sen-Constable Bird said police monitored beaches frequently and while many regular road rules applied, there were some differences, such as reducing tyre pressure to about 20 psi.
He said another common trap was drivers getting bogged in Second Lagoon, which flowed on to the beach after rainfall.
Constable Bird said speed limits applied on the beach, which were between 30km/h and 50km/h on Bribie Island. "Drink and drug driving rules apply, speed limits apply," he said. "(It's) like any other road."
TOP TIPS FOR DRIVING ON THE BEACH
■ Four-wheel-drive vehicles only
■ Reduce tyre pressure to 20 psi and reinflate after exiting
■ Speed limits apply
■ Drive on hard sand where possible
■ Pass on the usual side unless the oncoming vehicle is driving considerably higher or lower on the beach
Source: Quest News