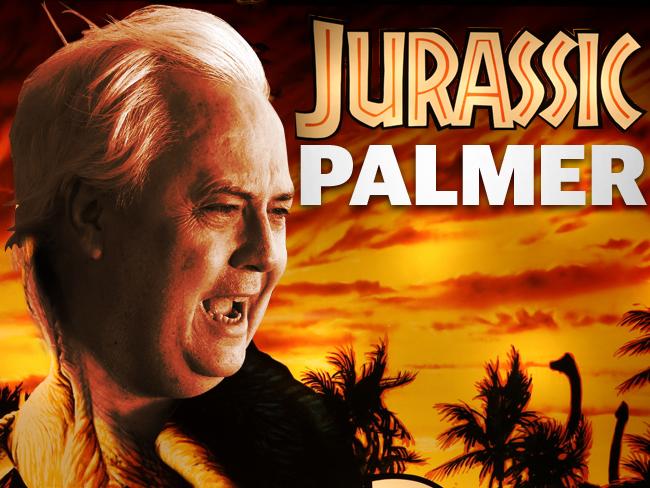 Galaxy Poll reveals Clive Palmer's primary support has dropped to 2 per cent or Junk status
Angry voters have their baseball bats ready for Clive Palmer and are set to overwhelmingly chase him out of his Sunshine Coast electorate.
A Galaxy Poll taken exclusively for The Courier-Mail reveals Mr Palmer's primary support in Fairfax has haemorrhaged to just 2 per cent – down from 26.5 per cent when he won narrowly on preferences in 2013.
As the failing businessman revealed he would run again for his marginal Lower House seat, a poll of 506 voters in Fairfax on January 21 shows he should not bother, and instead should save the cash he splashes on advertising.
A whopping 83 per cent of voters are dissatisfied with his performance. Just 7 per cent are satisfied.
The results mirror internal Liberal Party polling showing the mining entrepreneur clocked up just 1 per cent, with one senior Coalition MP labelling him "Mr Statistical Error''.
The poll, taken days after Mr Palmer's Queensland Nickel sacked more than 200 workers and went into voluntary administration, shows voters want an end to the Palmer drama and will park their vote with the Coalition or Labor. It reveals how volatile Queensland politics can be for political parties.
It was former Queensland premier Wayne Goss who said the state's voters were so angry with former prime minister Paul Keating that they had been "sitting on their verandas with baseball bats'' waiting for the (election) writs to be dropped.
Asked who would win their vote if an election were held today, 50 per cent of Fairfax respondents said they would support the LNP, up from 41.3 per cent at the past election. Labor's vote is also up, from 18.2 per cent to 27 per cent.
Even if Mr Palmer managed to increase his primary vote, preferences would not go his way, with the ALP and Greens more likely to preference the LNP than the Palmer United Party.
When asked about the poll, Mr Palmer refused to comment but tweeted it was "propaganda'' working against him.
The poll comes as a chorus of senior Liberal Party MPs and some sacked Queensland Nickel refinery workers have urged Mr Palmer to quit Parliament and concentrate on his day job.
Parliament resumes on February 2 and on Friday, Mr Palmer plans to address a creditors' meeting in Townsville.
FTI Consulting, the administrators of Mr Palmer's Queensland Nickel refinery, will for the first time reveal publicly to sacked workers whether or not the company has been run efficiently.
Premier Annastacia Palaszczuk said the voters would make their own decision at the ballot box.
"There will be a federal election this year. People in his electorate will have a very clear choice when they go to the ballot box," she said.
"The administrators are getting to the bottom of the true nature of the books."
Ms Palaszczuk said that more accelerated capital works projects would be announced by the Government in the coming weeks for areas suffering from the resources industry downturn, particularly Townsville, Cairns and Mackay.
PUNTERS SAY 'LET'S VOTE'
IT'S stormy seas ahead for Clive Palmer with voters in the Sunshine Coast electorate of Fairfax fed up with his lack of interest in the community.
Graham, 63, and Alice Dacombe, 58, from Coolum, said Mr Palmer seemed to take from the community but not give anything back.
"We live near the resort and when I moved here I was hoping to see the PGA because I'm a keen golfer, " Mr Dacombe said. "But he just seems to be running it into the ground. I don't trust anything with his name on it."
Business owner Gaye Williams owns The Shop in Coolum and said she felt Mr Palmer had abandoned the community he was elected to represent.
"I'm very disappointed," she said. "He's so out of touch with the community.
"I heard him on the radio say about the community: 'Why would I care about a fish and chip shop?'
"As a politician he should care about all the businesses in the community."
Ms Williams said the community felt let down by the secrecy in regard to the management of Palmer Coolum resort.
Pirie and Jim Scott only recently moved to Mt Coolum with their two children but said they were concerned about his motives for the area.
"I just can't work out what he's doing, " Ms Scott said.
"It's like he's just trying to destroy the area."
Mr Scott said friends had told him the area had suffered since Mr Palmer was elected.
"People at work told me it used to be a thriving area," he said. "Palmer is ruining it for everyone else."
Source: Herald Sun