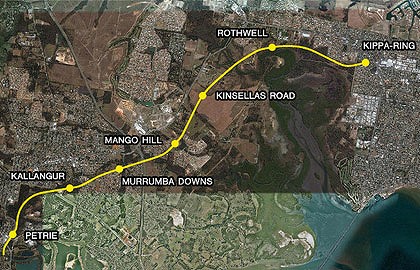 Fears Queensland's infrastructure plans not on track to meet future demand
Much-needed rail projects across Queensland are stalled in the planning stage, sparking fears that the state's heavy rail system will not be able to cope with growing passenger numbers in the future.
The Palaszczuk Government is under pressure to get moving on new projects amid concerns the Moreton Bay Rail Link may be the end of the line for heavy rail.
Acting Premier Jackie Trad and Transport Minister Stirling Hinchliffe yesterday spruiked the progress of the near-completed Moreton Bay Rail Link.
But RAIL Back On Track spokesman Robert Dow said the Government needed to turn its mind to delivering other crucial rail projects like the duplication of the Sunshine Coast railway line and cross-river rail.
 "There's nothing in the pipeline. It's all planning and looking at cost-benefit and ­redoing studies that have been done many times already," Mr Dow said. "They produce the documents but nothing ever happens."
Mr Dow did acknowledge the announcement last month of the $163 million duplication of the Gold Coast railway line between Helensvale and Coomera, and the securing of Commonwealth funds for the Gold Coast light rail extension.
Experts have warned Queensland's rail system will not cope with rapidly growing passenger numbers and risk exceeding capacity by 2021.
Transport Minister Stirling Hinchliffe said the Government was moving on major projects and was poised to announce its infrastructure plan in coming months.
Source: Courier-Mail