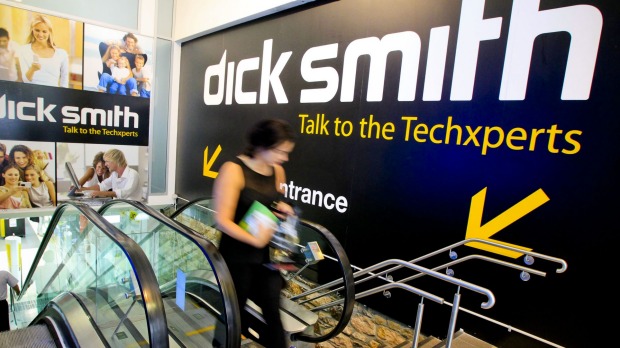 Dick Smith appoints McGrath Nicol as administrator
Dick Smith has gone into voluntary administration, with receivers appointed to try to claw back debt owed to the company's creditors.
The electronics goods chain entered a trading halt on Monday, pending an announcement about its "funding position and debt financing covenants", and on Tuesday morning announced that advisory firm McGrath Nicol had been called in as administrator.
The breadth of Dick Smith's woes became public when it abandoned its profit guidance.
The breadth of Dick Smith's woes became public when it abandoned its profit guidance. Photo: Glenn Hunt
Dick Smith's major lenders have appointed Ferrier Hodgson as receiver, which has said it would try to sell the company as a going concern.
In a blow to customers, Ferrier Hodgson said it would not honour outstanding gift vouchers or refund deposits paid for goods.
"Affected customers will become unsecured creditors of the group," the firm said in a statement.
Ferrier Hodgson said it would continue to pay Dick Smith's 3300 employees and the chain's 393 stores would operate as normal while it restructured the company and tried to sell it.
Chairman Rob Murray said Dick Smith's go-for-broke discount sale in December had not generated as much cash as management had expected, continuing a downward trend in the second quarter and leaving it with no option but to call in an administrator.
"The directors formed the view that any success in obtaining alternative funding would not have been sufficiently timely to support short-term funding requirements and allow the company to order required inventory during the next four to six weeks," Mr Murray said in a statement released through the ASX.
"The directors have been unsuccessful in obtaining the necessary support of its banking syndicate to see it through this period.
"The directors are of the view that without this support, there is no option other than to appoint a voluntary administrator."
Ferrier Hodgson partners James Stewart said it was too early to tell what caused Dick Smith's current dire financial situation, other than noting it had become "cash constrained in recent times".
Mr Stewart said the New Zealand arm of the business was profitable and expected it to be attractive to buyers.
The appointments could mark the end of Dick Smith as a publicly listed company, and come after two painful earnings downgrades in the past six months and a $60 million inventory write-off that sent shares plunging by as much as 70 per cent, hitting 20¢ at one point. The stock is down 83 per cent over the past 12 months and fell out of the S&P/ASX200 in early December.
Private equity firm Anchorage Capital Partners bought Dick Smith from Australian retail giant Woolworths in a deal worth $115 million in 2011 and floated it with a market capitalisation of $520 million less than two years later.
Investors paid $2.20 a share when Anchorage Capital floated the company in December 2013 and the stock traded as high as $2.40 in January 2014.
In an October 2015 blog post titled Dick Smith is the greatest private equity heist of all time, Forager Funds analyst Matt Ryan outlined how Anchorage Capital stripped inventory from the retailer before bringing it back to the public market.
Company founder, entrepeneur Dick Smith, has previously said that investors should not have been surprised to see the value of their shares fall off a cliff.
"You don't need to be very bright to realise that a company worth $90 million one moment is unlikely to be worth $500 million 12 months later just because it had a change of ownership," Mr Smith, who sold the company to Woolworths in 1982, told Fairfax Media last month.
"It was pretty obvious to me that anyone buying those shares would be taking quite a risk."
Source: Brisbane Times