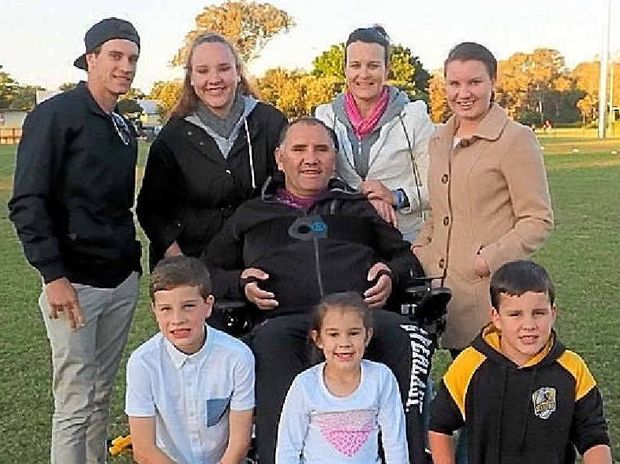 Bribie Island Warrigals rally for Andrew Grant
Bribie Island is saddling up for a bucking good time for the second annual rodeo on Friday night.
Fifty per cent of the proceeds from the night will be donated to Caboolture man Andrew Grant, who was paralysed when playing for the Warrigals in May last year.
One of the organisers of the rodeo, Annette Angelucci, said the Warrigals would like to see everyone there to help out Andrew and his family.
"Come along and enjoy the whole spectacle of the rodeo," Annette said.
"Every cent we can raise for Andrew is a bonus."
The night will have all of the things a good rodeo should have - bulls, cowboys, juniors and comedy.
The club has been rallying around the Grant family since Andrew's tragic accident, and Annette said next Friday's rodeo would be no different.
"We all get in and do our bit," she said.
"It's all hands on deck. They all come out of the woodwork to help out."
Volunteering their time for the rodeo isn't the only thing the Warrigals are doing to help the Grant family bolster their bank account.
Property developer Ray Sinclair has provided a block of land as a blank canvas for the club to build a house to auction off, with all profits donated to help their injured team-mate.
Former Warrigals president and building co-ordinator Andrew Loi said he was amazed by the support from the community.
"I'm pretty overwhelmed with the amount of people coming forward (to volunteer)," Mr Loi said.
Construction for the three-bedroom, two-bathroom house in Ningi is set to commence this month.
While the labour and 75% of the materials have already been donated, Aldo said they still had a little to go before they could commence building.
"We're actually chasing timber, roof trusses, reinforcing steel, concrete, and carpet. That's probably the big major items we need."
Aldo said the club is aiming to help Andrew get one expensive item in particular.
"We are trying to get a car for him," Aldo said.
"It's probably about $100,000 for the car, because he's got six kids and he's got to have wheelchair access - but we're hoping to make more than that."
"(Andrew) is overwhelmed with what people are doing for him, but it's the sort of thing we've got to do. He was injured playing for Bribie, so we've got to help him out."
Andrew Grant said he had been moved by the outpouring from the community.
"It's overwhelming what they're doing for me," Andrew said.
"I'd just like to thank everyone - the community, friends, family, and the people I don't even know that are chipping in."
Anyone who wishes to donate to the build can contact Aldo Loi on 0417 608 099.
Tickets for the rodeo can be bought at the door.
Doors open at 5.30pm on January 15 at the Warrigals grounds.
Source: Bribie Island Weekly