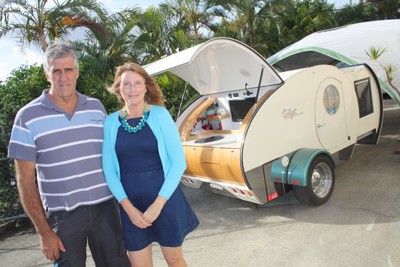 Brendale Aussie retro camper design up for award
A Brendale company that is in the business of leisure is one of the finalists of the inaugural Moreton Bay Region Innovation Awards.
The Gidget Retro Teardrop Camper is one of 67 entries for six categories of the Moreton Bay Regional Council-sponsored business awards, which promote and celebrate innovative products and technologies created by local enterprises.
Based on the teardrop design of small camper vans popular from the 1930s to the 1960s, the compact Gidget campers – with design names such as the 'Noosa' and the 'Bondi' – are in high demand all over the world.
Business owners Glenn and Christine Wills from Albany Creek started designing the campers back in 2012 and began production this year, with the modest aim of making "only four or five a year".
Demand for the custom-built campers has been so great that the business has expanded from two employees to more than 25 – including experienced former boat and caravan craftsmen aged in their 60s – in less than 12 months.
"We've had people from Abu Dhabi and Russia and England wanting to buy them but at the moment our markets are Australia and quite a lot (sold) to USA, Canada and New Zealand," Ms Wills said.
She said customers "really embrace the fact that it's Australian made".
"The Americans particularly love the fact that it's Australian made because they perceive Australian made as being hard working, they see it as robust and they see it as being honest and authentic," she said.
"As far as I understand… we're the only company where people are coming from overseas to buy an Australian made (camper) product."
A Gidget Retro Teardrop Camper video on Youtube has had almost 14 million views, and the camper has been featured in publications in North America and Europe.
Eleven of the Moreton Bay Region Innovation Awards finalists are enterprises from The Westerner area, including entries from Cedar Creek, Samford Valley, Warner, Highvale, Albany Creek and Arana Hills.
The Gidget Retro Teardrop Camper and the ScrubMaster Expedition from Travel Trucks of Brendale have been shortlisted
for the People's Choice Award.
Vote at www.moretonbayinnovationawards.com.au before 5 February.
Source: The Westerner