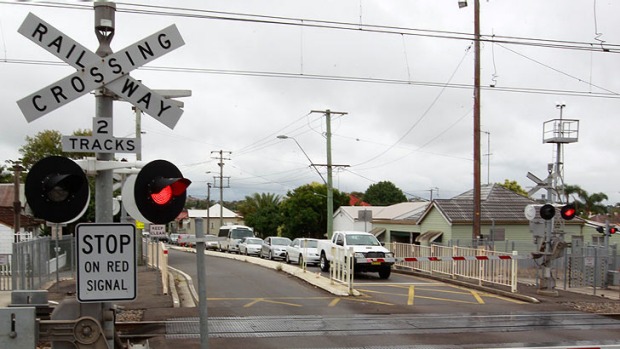 Be on the safe side around level crossings now school's back
Queenslanders are being urged to take extra care at level crossings from this week, with more cars and pedestrians expected back on the roads with the return of the school year.
Minister for Transport Stirling Hinchliffe said statistics reveal near misses at level crossings typically trended upwards at the start of the school year.
"During the back to school period last year more than 20 motorists and pedestrians across the state were reported gambling with their lives at level crossings," Mr Hinchliffe said.
"With school back this week my message to motorists and pedestrians is to be on the safe side - stop, think and obey the signs around a level crossing."
Queensland Rail's General Manager Safety Greg Fill said collisions at railway level crossings are one of the largest causes of loss of life on the rail network, but every incident can be avoided.
"Trains on the network can travel up to speeds of 160 kilometres per hour, they can't swerve to avoid someone and often take several hundred metres to stop," Mr Fill said.
"Level crossing warnings are in place for a reason, whether it's signage, flashing lights or boom gates. The message is simple – obey the signs and signals, take time to think about the consequences of your actions and don't gamble with your life at level crossings as it's simply not worth it.
"Any near miss is one too many when the lives of Queenslanders, passengers and rail staff are at risk, so we're asking people to stop, think and wait for the train next time they're at a level crossing.
"Motorists and pedestrians may think they're invincible, but the reality is every near miss has the potential to turn into something much worse, like a collision or fatality, in just a matter of seconds.
"While Queensland Rail is continuing to invest in education, engineering upgrades and innovations and working with police on enforcement to improve safety at level crossings, it's up to road users to play their part by simply obeying the signs and signals."
In 2015, 244 motorists and pedestrians risked their lives on the Queensland Rail network by running the gauntlet in front of an oncoming train – a decrease of 17 percent from the 295 near miss incidents reported in the previous year.
Pedestrians caught ignoring railway crossing protection could receive an on the spot fine of $227, and offending motorists could face a $330 penalty and three demerit points.
To learn more about level crossing safety visit queenslandrail.com.au/railsmart (external site)
Video News Release: https://www.youtube.com/watch?v=T0rOjO6OLno (external site)
Summary of railway crossing near misses reported on Queensland Rail network (2014 & 2015 calendar years)
| | | |
| --- | --- | --- |
| Region | 2014 | 2015 |
| South East Queensland | 207 | 137 |
| South West Queensland | 36 | 49 |
| North Queensland | 19 | 20 |
| Far North Queensland/Tablelands | 16 | 13 |
| North West Queensland | 3 | 9 |
| Mackay/Whitsunday | 8 | 6 |
| Wide Bay | 1 | 3 |
| Central Queensland | 3 | 2 |
| Gympie/Sunshine Coast | 1 | 3 |
| Central West | 1 | 2 |
| Total: | 295 | 244 |