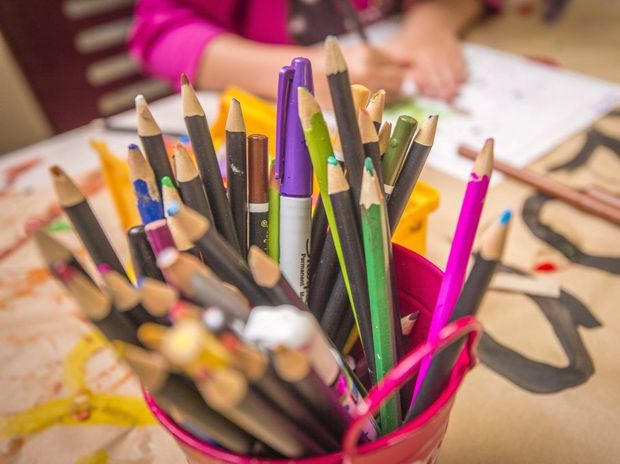 Back to School Getting the kids out the door on time and on budget
Yippee Hooray - the children will soon be back at school. To make sure they are really gone, I mean prepared, here are some tips and hints on getting everything together before the big day.
Books and stationery
It's so easy to just "tick the box" and have the newsagent package everything together for you, but if you are on a budget or time-poor (check and check), then it's time to do it yourself. There are some really great and cheap back-to-school websites around now, but my pick is the big office supplies warehouses. Everything is there, it is relatively cheap, and some will even deliver it if you buy it online - you can shop in your PJs.
Another tip: don't ignore what your children have brought home in their bags from last year. If there is an exercise book with just a few pages used, rip those pages out and let them use that for the year. Coloured pencils and Textas can also be re-used.
Plus, book covers are all the rage - yes, more expensive than contact - however, I use mine year after year after year. They are hard to damage and so easy to put on.
School bags and lunch boxes
If your children need a new school bag, this is one area I think you should consider quality over price. Buying a good, sturdy bag big enough for all your child's things will ensure they can get years of use out of one bag.
Lunch boxes are the same. A good lunch box should last your child at least five years. I do think a new drink bottle is a good investment every year.
A good lunch box is strong, plain and not insulated (as they are notoriously difficult to clean). Buy a different colour for every child and a matching coloured drink bottle.
Uniforms
Kids grow so fast. If you can't afford new uniforms (which can be so expensive), then try your local "Facebook uniform store" - most towns have them.
Your local uniform shop at the school should have some great second hand options too.
But by far my favourite idea is to find friends who have children a few years older and grab their hand-me-downs. Then make sure you hand yours down when your children are finished (if they are still in good condition).
Shorts and plain t-shirts are cheap as chips to purchase at your local Big W or Kmart. The only item I suggest you buy new: a hat.
School lunches
I'm still a firm believer in freezing lunches for the week on a Sunday night.
Not only does it ensure I have more time in the morning, but the kids can grab out the flavour they want themselves and pop it into their lunch boxes.
Here in Queensland and northern New South Wales it can get really hot, so a frozen sandwich makes sense.
My tips:
Use extremely fresh bread and make them up right away.
Wrap them well in plastic wrap to avoid freezer burn.
Freeze only for up to five days
Label each sandwich according to the topping.
Another tip for winter is to invest in a small kid's thermos. Then they can take warm spaghetti bolognaise, soup, cold fruit smoothies, celery sticks and hummus etc. They are a great idea if your kids get sick of sangas every day.
Write out a morning schedule for school
Last of all, the key to getting the kids (and yourself) up, ready and dressed for the day is to have a schedule. A small whiteboard is handy, and they can tick off the jobs as they do them. Mine goes something like this:
7am
Get up and have a shower
7.15am
Eat breakfast, pack your school bag for the day and put it at the front door.
7.45am
Brush teeth and hair, get dressed, put on socks and put shoes at the front door.
8am
Time to yourself until we leave.
8.20am
Leave for school.
Allowing a bit of time in case they oversleep or take longer eating breakfast gives you a bit of leeway. Plus, if they are all ready, I let them watch TV or have 10 minutes of screen time in the morning. It gives them a bit of an incentive to get everything done on time.
Self-sufficiency is important, too. Teach them how to make their own breakfast, where to find their uniforms, how to tie their laces and pack their lunch if they are old enough.
Source: Caboolture News