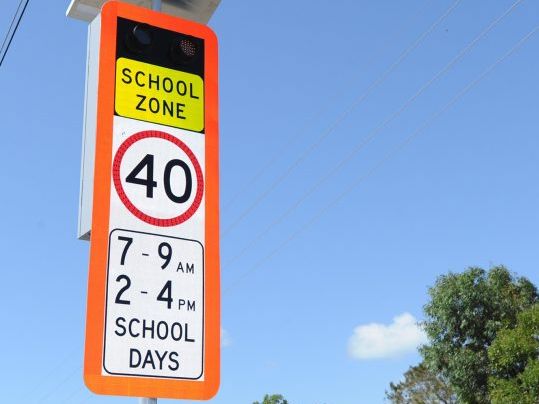 Attention all motorists School zones = slow down!
If you approach a school watch the speed zone signs and obey them for the safety of our children
As thousands of Queensland students prepare to slip on their backpacks, straighten up their uniforms and head back to school this week motorists are being reminded of the crucial driving lessons of not speeding and being alert.
Main Roads, Road Safety and Ports Minister Mark Bailey said drivers needed to be extra vigilant in school zones. He also urged parents and carers to talk to children about road safety and monitor them closely while travelling to and from school.
"The safety of all Queenslanders – especially our youngest ones – is our top priority at all times," Mr Bailey said.
Mr Bailey said children, especially those in younger grades, were unpredictable around traffic as they continued to learn road rules and safety.
"The first day, and first few weeks of school, is a settling-in period for students and their exuberance can sometimes lead to spontaneous actions," he said.
"We want children to get to and from school safely but it's up to us as drivers and parents or carers to ensure their safety."
It is law that motorists are required to slow down to the reduced speed limit before entering school zones and the reality is slowing down to the correct speed limit can save someone's life or prevent serious injury.
With a few exceptions, school zones in Queensland have now been standardised to 7am to 9am and 2pm to 4pm.
"We encourage drivers to check the school zone times of the areas you drive through and make sure you are driving to the speed limit," Mr Bailey said.
"If you have slowed to the correct speed around a school, you have a much better chance of stopping your vehicle if a student runs out in front of you.
"I'm also asking parents to join the drive to save lives and sit down and talk about road safety with their children before they allow them to independently walk or ride to school.
"School children need to know to cross the road only when it is safe, such as where a school crossing supervisor can assist or at traffic lights."