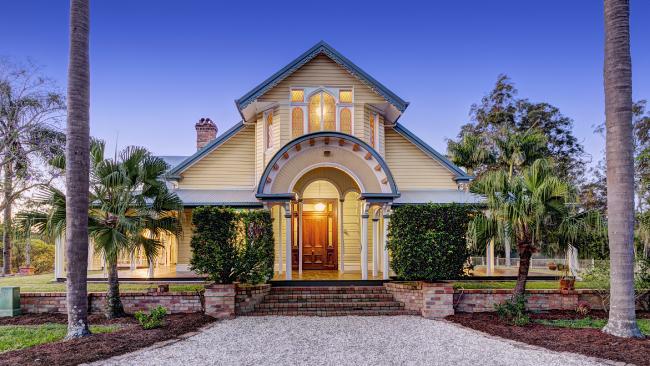 Stunning historic home has a secret kids will love hidden within its walls
IT'S got all the markings of a grand residence, yet this 3.5ha property is also a stunning piece of Queensland history - and it has a secret passage hidden in its walls.
Built in 1901 in Wynnum, the 114-year-old Moreton building was formerly the elite Moreton Bay Ladies College.
When it was set for demolition in 1986, a man called Tony Finlay stepped in to save it, relocating the massive building to 142 Airlie Road, Pullenvale.
"It was a massive project, it got moved in 13 pieces," said current owner Luba Malecky - who co-bought the property in 1993 with her husband Terence Mau.
"I don't think anybody had done anything like it before. People had moved houses in two but nothing quite so large had been moved."
Ms Malecky, whose two daughters both grew up in the house - one now 20 and the other 18 - had never intended to buy the home when she and a friend went to the open house in 1993.
"We're both surgeons and my husband had been working the last couple of days on call, and got to bed and basically knocked out for the day. So I thought I'd pass the time visiting a friend and having a sticky beak at the open home."
"As we came up the driveway, it's over 500 metres long, and came to the crest of the hill, suddenly you see the house, It still takes my breath away. Photos don't do it justice."
She said when the bidding halted under reserve, she decided to call her husband to tell him she was buying a house - and proceeded to do so.
A friend, who'd just sold a property in Perth, happily lent her money for the deposit - and it was official.
"Living here is pretty amazing. It epitomises the best of Queensland living really. It's so great to have horses. My girls grew up here. They both rode horses, they grew up with chickens, guinea pigs, dogs, you name it."
She said the rooms were very large because many had been classrooms previously.
The hidden passageway, she said, Mr Fnlay added after he moved the house to the site creating "a secret hidden staircase behind a bookcase".
"There was once a dumbwaiter that came up to the senior girls' dining hall that used to go down to the kitchen. When the house was moved Tony Finlay built a staircase there and instead of going up to the dining hall, it goes down to wine cellar. It looks marvellous. It was fantastic for parties, fantastic for Halloween. We had the best time, absolutely."
With the girls now moving on to tertiary study, the family has decided to put the rambling Moreton up for sale. It's being marketed by Will Bertelsen of Ray White South Brisbane, and going to auction at noon on December 13.
There are 16 rooms in the home, of which six were bedrooms and three bathrooms. The property also has four car spaces, an additional stand-alone pavilion; a floodlit full sized tennis court and an inground pool.
"It's going to be hard to leave," Ms Malecky said. "Now I think it's someone else's turn for their kids to be happy in this country estate."
Source: Courier Mail