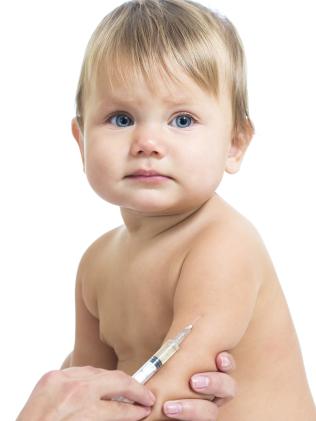 Southeast Queensland home to four of the nation's top five anti-vaccination havens
Southeast Queensland is home to four of the top five anti-vaccination havens in Australia, new government data reveals.
Queensland also has the highest number of parents with a conscientious objection to vaccinating their children.
Parents of nearly 9000 children under the age of seven in Queensland who refuse to vaccinate their kids face losing childcare subsidies and some welfare payments under new "no jab no pay" laws taking effect on January 1.
A new analysis by the Department of Social Services, using the latest data from 2013-14, shows the southeast dominates with the worst anti-vaxxer hot spots in the country.
The counterculture haven of the NSW north coast is Australia's centre for anti-vaxxers, with 761 children under five unvaccinated.
This is closely followed by the Greater Metro South Brisbane region, where 755 children under five were not vaccinated.
Metro North Brisbane came third with 708 cases, followed by the Sunshine Coast with 660 and the Gold Coast with 652.
Castaways Beach and Noosa Heads had the lowest overall immunisation rate in Australia of 83.1 per cent, the figures show.
The national average for overall vaccination is 92 per cent and the Government wants to lift this to 95 per cent, which is the "herd immunity" level scientists say is needed to contain the spread of diseases such as chickenpox and measles.
The Sunshine Coast also has Australia's highest rate of children under five whose parents claim a conscientious objection to immunisation at 7.1 per cent.
Queensland has the most children under seven registered as conscientious objectors by their parents – 8692 out of 447,621.
Social Services Minister Christian Porter said he was appalled by the vaccination rates in the southeast.
"It is terrible outcome for that community," he said.
 Mr Porter said it was "a matter of concern Australia wide" that the national vaccination rate had dropped to 92 per cent, but he said the 83 per cent rate on the Sunshine Coast was "perilously below" that needed to stop the spread of disease.
In a positive sign, live tracking data from the federal Department of Social Services suggests there has been a slight improvement in vaccination numbers across the country in the lead-up to January 1, Mr Porter said.
Meanwhile, the number of Queensland mums-to-be getting the whooping cough vaccine is on the rise but still only half of all pregnant women are protecting their unborn children from the disease.
The vaccine is offered free in the third trimester and is recommended to all pregnant women but only about half are getting the jab.
Cases this year of infant whooping cough, which can be deadly, have been linked to unvaccinated mothers.
Chief Health Officer Dr Jeannette Young said women weren't reluctant to get the vaccine, just uninformed.
Sunshine Coast women Amanda Westaway, 29, and Lisa Blake, 37, are expecting babies in February and both opted for a shot.
"We make so many choices to protect our babies when we're pregnant ... this is just another important step to take to make sure my baby is protected," Ms Blake said.
Ms Westaway said vaccinations was "extremely important".
"I'm aware that there's a lot of whooping cough around on the Coast, so I'll be asking close friends and family to check their own vaccinations are up to date before they pay us a visit after the birth," she said.
Source: Courier-Mail