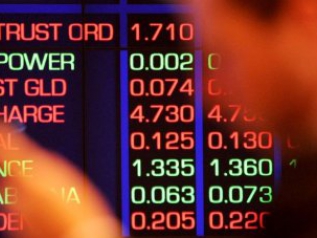 Share market up 2 per cent ahead of expected US Federal Reserve interest rate rise
The local share market has closed up 2 per cent, taking it back up to close where it was at the start of the week.
It is widely expected that the US Federal Reserve will raise interest rates for the first time in nearly 10 years in the early hours of tomorrow morning.
All the anticipation sent the All Ordinaries Index back above the 5,000, to close 114 points higher at 5,078, while the ASX 200 gained 118 points to close at 5,028.
The four big banks all lifted by more than 2.5 per cent, and even BHP Billiton managed to turn things around after yesterday's ten-year low, gaining 91 cents to $17.18.
But the best performer of the day was Crown Resorts, with investors taking a punt that James Packer wants the company back into private hands.
Stocks lifted $1.12 to close at $11.77.
The healthcare sector, however, got another hammering.
The Federal Government announced $650 million in cuts to bulk billing subsidies for pathology in yesterday's budget update.
In the wake of that announcement, stocks in pathology company Primary Health Care lost 25 cents to $2.33, while rival Sonic Healthcare lost more than $1 to $17.46.
The diagnostic imaging firm, Capitol Health, told the market the changes could mean a 5 to 7 per cent hit to revenue, and that it would investigate what it calls "remedial options".
Capitol shares were down 18 per cent to 24 cents.
In commodities, West Texas crude oil recovered a little — trading at $US37.27 a barrel.
Iron ore was at $US37.50 a tonne and gold lifted to $US1,065 an ounce.
At 6:00pm (AEDT), the Australian dollar was buying 72 US cents.
Source: ABC News