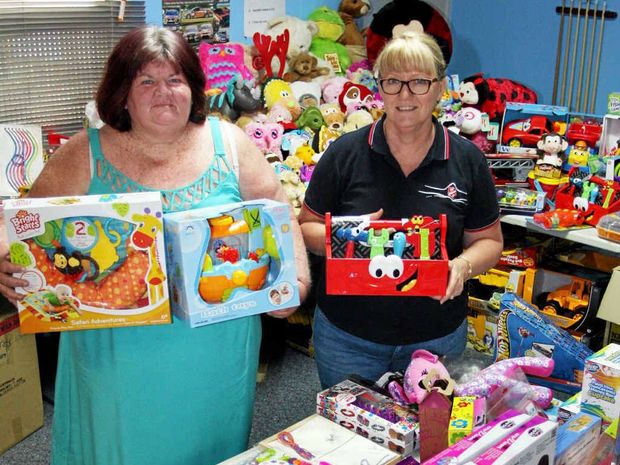 Salvos give to families that need this Christmas
For the past three years, Tracey Murphy has been volunteering with the Caboolture Salvation Army to pack and distribute toy and food hampers for families who are in need at Christmas.
"I love meeting new people," she says. "I get them a tea, coffee or cold drink when they arrive to collect their Christmas blessing and make them feel welcome."
The Salvation Army is aiming to spread hope through the Caboolture community this Christmas.
"We believe no one should have to go it alone. We want to share the hope, joy and love of Christmas with everyone, particularly those who need it most at this time of year," said Salvation Army corps officer Major Helen Ellicott.
Caboolture Salvation Army has lots of opportunities for the community to get involved in this Christmas. Families in need can receive assistance by contacting 0431 524 085.
"One way you can join us in giving hope is by donating new toys, non-perishable food items or making a monetary donation," Major Helen said.
Donations can be made at The Ministry Centre on the corner of Dux and Lower Kings streets in Caboolture.
You can also give to the Salvos' Christmas Appeal by calling 13 SALVOS (13 72 58), giving online at salvos.org.au/Christmas or visiting your local Westpac branch.
Caboolture locals are also invited to attend The Salvation Army's carols service on December 20 at 6.30pm.
"Come dressed as your favourite Christmas character if you want!" Major Helen said.
"So often we get caught up in the busyness of this time of year.
"The carols provide a time to stop and celebrate what Christmas really means, together as a community."
On Christmas Day, The Salvation Army gathers to celebrate the birth of Jesus.
Everyone is welcome at their Christmas church service at 9am at 8 Grout St, Caboolture.
To find out about what The Salvation Army is doing at Christmas across the country, log on to http://www.salvos.org.au/christmas
The website also has Christmas budgeting tools, low-cost craft, present and recipe ideas and information about our local Christmas carols and Christmas service events.
Source: Caboolture News