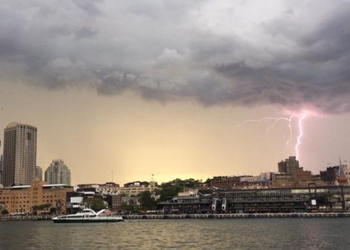 Queensland Fire and Emergency Services and BOM say Prepare now for storms December 10
Queensland Fire and Emergency Services (QFES) is urging residents in parts of Queensland to prepare for thunderstorms in the coming days.
The Bureau of Meteorology has forecast storms for regions extending from the Gulf Country through to the western districts as well as parts of south-east Queensland, and QFES is asking residents in these areas to ensure their property is well prepared.
Residents should ensure their gutters are clear and that they have no branches overhanging their house.
In the hours before the storm approaches, residents are advised to bring loose outdoor items indoors and secure items which can't be moved, such as swing sets and trampolines.
They should also move cars undercover and away from trees and seek shelter indoors, never under trees.
After the storm hits, the community should be alert for debris around their house as well as fallen trees and powerlines.
Residents who cannot clean up their own property and require storm and flood emergency assistance should contact the State Emergency Service (SES) on 132 500. In a life-threatening emergency dial Triple Zero (000).
SES volunteers respond to hundreds of requests during peak storm activity and ask that those requiring assistance be patient.
Most SES tasks are not quick jobs and often extensive work and time is required to attend to storm damage.
The public is asked to remember that the SES is made up of volunteers dedicated to helping others and will always put the safety of its volunteers first during adverse weather conditions.
For updated information monitor the BoM website at Bureau of Meteorology and for further information on how to prepare visit Queensland government Get Ready website, Warnings always available in a timely manner on 101.5 FM Facebook site and 101.5 FM Summer Storms site.