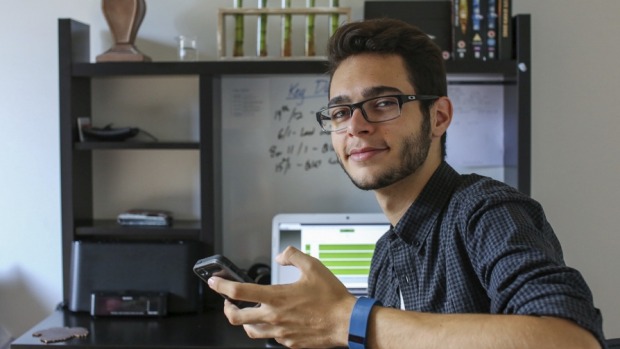 Nervous wait over for Queensland high school graduates
When Redcliffe State High School's Chris Nelson discovered he had attained a perfect OP1 score early Saturday morning, his first response was most certainly reflective of his generation.
He posted it on Facebook.
"Mum was a little mad because I made a Facebook post first and she came running in to my room and said, 'why didn't you tell us first?' " he laughed.
Redcliffe State High School student Chris Nelson, with parents Kerry and Ian at home in Brendale, posted his perfect score to his Facebook site before telling his parents.
"But they were over the moon."
Like all of Queensland's nervous high school graduates, the 18-year-old aspiring medical engineer thought the scores went live at 9am Wednesday.
But when he woke at 7am, he found a text message from a friend that said the scores had gone live at midnight.
Chris immediately logged on to the Queensland Curriculum and Assessment Authority website via his phone and found he had achieved a perfect score.
He was one of just 731 students across the state to achieve the highest possible OP score.
"A lot of my teachers were saying I was going to get (an OP1) but I guess I didn't want to go in thinking I was going to get a one just in case I didn't," he said.
"I was just in shock, it was just really exciting then I just felt really overwhelmed that the last year has been worth it to get the end result."
Chris, whose heavily science-based Year 12 studies list included physics, chemistry, engineering and two maths classes, hopes to study a five year double degree in science and engineering at either the University of Queensland or Queensland University of Technology.
While naturally with five years ahead of him he is still a little undecided as to his ultimate career path, at present, he has his eye on the medical engineering field.
For now, the pressure is off for a little while.
"I thought I was going to be pretty calm about it but the last couple of days I have silently stressed about this moment, just the stress of not knowing," he said.
The next stress test for the state's 2015 high school graduates is January 14, when first round university offers come out.
Queensland Education Minister Kate Jones said a record 92 per cent of the state's 51,022 Year 12 students this year attained their Queensland Certificate of Education.
But while there are many happy graduates in Queensland on Saturday, Ms Jones urged students who did not achieve the results they had hoped for not to be disheartened.
"I encourage anyone who is disappointed with their results to be aware they have many options," she said.
"They might work towards upgrading their qualifications or explore alternative ways of securing a university place or accessing training programs."
2015 QCE fast facts
51,022 students received a senior education profile — 951 more than last year
46,921 students received a Queensland Certificate of Education — 1229 more than last year
26,432 students received a tertiary entrance statement showing their OP — 298 fewer than last year
731 students received an OP1 — eight fewer than last year
21,067 students received an OP between 1 and 15 — 97 fewer than last year
908 students received a certificate of academic commendation for very high achievement in the equivalent of at least six authority subjects (i.e. at least 24 semesters at VHA standard)
30,954 achieved a VET Certificate I, II, III or IV qualification — 129 more than last year
1,589 students studied a university subject while still at school — 137 more than last year
743 students with learning impairments were awarded a Queensland Certificate of Individual Achievement — 49 more than last year
Source: Brisbane Times