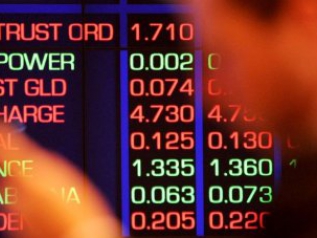 Late December rally eases investor pain in lead up to Christmas
A late December rally has eased the pain for investors in the lead-up to Christmas with modest gains across most sectors.
The All Ordinaries Index rose 25.8 points — about 0.5 per cent — to 5193.50, while the ASX 200 added 25.1 points to 5141.60, consolidating yesterday's advance.
With a strong lead from Wall Street, which finished almost 1 per cent higher on better-than-expected economic growth figures and the prospect China may consider stimulus measures to boost its growth, local investors took heart, although volumes were relatively low.
The big miners and energy stocks were among the best performers following a ceasefire in the recent rout in commodity prices that saw a slight bounce in iron ore and oil prices.
Iron ore, the nation's most valuable export, staged a minor comeback during the past week, settling back above $US40 a tonne. It rose 34 cents to $40.80 overnight, spurring investor hopes the worst may have passed.
Heavyweight Rio Tinto responded to the firmer metal prices with a 4.2 per cent jump to $44.00 while BHP Billiton rose 3.39 per cent to $17.40.
But the recent plunge in commodity prices continued to wreak havoc.
Transport group Aurizon announced its profits would be hit by lower coal-haulage volumes, along with a suspension of its Pilbara iron ore project and a $240 million write-down, sending its shares plunging 15 per cent in early trade.
By the close it had recovered some lost ground but still finished more than 12 per cent lower at $4.34.
Slater & Gordon stocks fall amid class action led by rival
The other standout was the shock announcement class action specialist Slater & Gordon had itself been targeted for a class action by its main rival, legal firm Maurice Blackburn, following a disastrous UK expansion and a recent earnings-forecast bungle.
Slater & Gordon stock shed another 6.6 per cent to 91.5 cents, well above its recent 69-cent low, but about 85 per cent down from this year's peak.
The banks enjoyed some reasonable gains with ANZ up 0.75 per cent to $26.88 and National Australia Bank rising a similar amount to $28.99. Macquarie jumped more than 2 per cent to $80.44.
The Australian dollar maintained its recent strength, and shortly after 4:00pm AEDT, it was buying 72.36 US cents, 66.15 euro cents, 87.58 Japanese yen, 48.76 British pence and $NZ1.06.
Tapis oil rose was buying $US35.79 and gold had risen $1.40 to $US1,073.89.
Source: ABC News