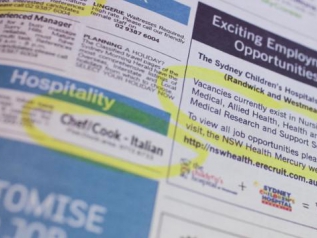 Labour market improving, rise in job advertisements: ANZ survey
The Australian jobs market appears to be improving after an ANZ Bank survey reported a lift in employment advertising in November.
The survey, which measures both newspaper and online employment ads, has notched up four consecutive rises, adding weight to official numbers that show employment as one of the economy's bright spots.
In its monthly survey, ANZ Bank saw a seasonally adjusted rise of 1.3 per cent in job advertisements, adding around 156,187 jobs on average per week in November.
Advertisements rose from 0.3 per cent in October.
"Australia's labour market continues to send positive signals about the current state of the economy," ANZ's co-head of Australian economics Felicity Emmett said in a statement.
"We see jobs growth slowing in 2016 as the boost from strong property market activity and the lower currency begins to wane.
"There is a risk, however, that job ads are signalling that employment growth could remain relatively strong for some time yet and the unemployment rate could decline a little."
Job ads have jumped 12.3 per cent from a year ago. Newspaper ads made up just 2 percent of total job ads.
ANZ Bank said employment activity is being supported by labour intensive industries, while hiring in the public sector has increased.
"We expect the unemployment rate to broadly track sideways around 6 percent until later this year," Ms Emmett said.
Employment figures from the Australian Bureau of Statistics for November will be released on Thursday, last month official unemployment rates fell to 5.9 per cent.
Source: ABC News