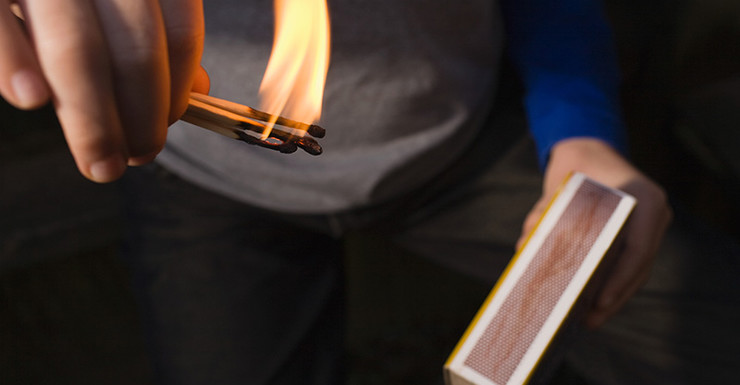 Kids 'trying to fit in' with dangerous fire craze
Experts say a deadly new social media trend could have horrifying consequences.
In one of the most dangerous social media crazes to ever hit the internet, young people are purposefully lighting themselves on fire and posting videos of the act online.
Thousands of clips uploaded to YouTube in the past year depict youngsters taking on what has been called the 'fire challenge'.
The bizarre practice involves pouring flammable liquid such as baby oil onto your bare body and intentionally lighting yourself on fire.
Participants usually stand near a shower or body of water so they can quickly put themselves out, but often not in time to avoid nasty burns, or even death.
The New Daily has chosen not to post the footage of the horrifying incidents.
In July this year, a 15-year-old Kentucky boy with severe burns told local news site WKYT he didn't realise how quickly the fire could burn his body.
This month, 11-year-old British boy Oliver Sharp set himself on fire while alone, only to be discovered by his horrified mother.
"I don't think what has happened will hit me until he has his operation," she said of her son's third degree burns.
The 'fire challenge' caps off a year of disturbing and dangerous social media stunts which have caused countless injuries and left others scratching their heads.
"It's just asking for trouble," said Siobhan Connelly, chair of the prevention board members committee at the Australian and New Zealand Burns Association.
Ms Connelly, who cited one New South Wales burns case linked to the trend, suggested youth were likely unaware of the very real consequences.
"Your skin pretty much starts burning instantaneously," she said.
"Then it's a matter of how many layers of skin you burn through."
Ms Connelly stressed that burns can mean months spent in hospital, skin grafts, surgery and even learning how to use body parts or speak again.
She said while the decision to take part in stupid stunts was ultimately up to the child, parents could make a difference by arming them with the relevant information.
A desperate cry for attention?
Dr Bhuva Narayan, senior lecturer at the University of Technology Sydney's School of Communication, said social media itself did not cause extreme behaviour, but meant "existing extreme behaviours get circulated more".
"Teenagers have always been attracted to risky and impulsive behaviours, but now those behaviours are modelled for them by seemingly real people or peers on social media," she said.
Dr. Narayan said that while teenagers have always been affected by the media they consume, videos like these were particularly personal.
"Social media videos make a more visceral impression on us than something we read in the papers or hear about second hand," she said.
Dr Narayan said children were mostly involving themselves in the challenges so they could share them with their friends and the outside world.
"The need to be noticed is a human thing and so is the need to belong," she said.
According to Dr Narayan, sharing videos is "a rite of passage" for young people, and a way for them to establish membership to a certain group.
Kids weren't necessarily aiming for stardom – or to become the next internet celebrity – but to fit in with their immediate peers.
"They are not copying actors or stunt masters or magicians, but other kids just like themselves," she said.
"The fact that some of these go viral is not necessarily intentional, or at least not the original purpose."
2015: a year for dangerous social media crazes
The fire challenge may well be the most dangerous social media trend of 2015, but it certainly wasn't the only one.
In April, videos and images emerged of young girls sucking on shot glasses until their lips swelled beyond recognition, or were even cut when the glass smashed.
Dubbed the 'Kylie Jenner challenge', the disturbing trend stemmed from girls wanting to emulate Keeping Up With the Kardashians star Kylie Jenner's full lips.
Equally as dangerous was the 'Game of 72', which required purposefully going missing for 72 hours without contacting loved ones.
And earlier this year, 14-year old UK boy Jack Pickles died after taking part in 'the choking game', involving intentionally cutting off your own airways until you faint – or worse.
Source: TND