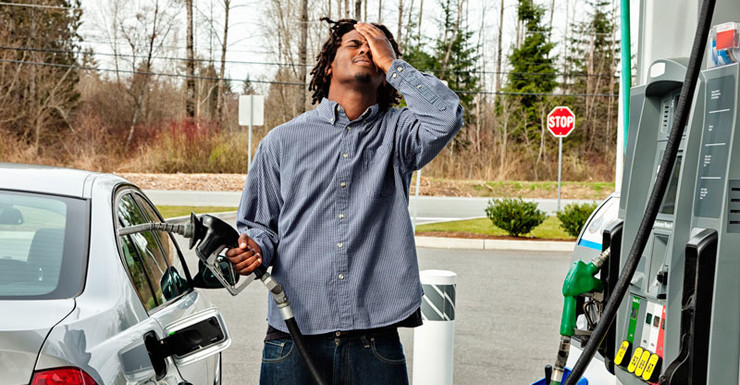 Fuel companies 'profiting' from a weaker dollar
A drop in crude oil price hasn't made its way to consumers' pockets. We find out why.
Petrol companies are taking more money from the pockets of motorists by charging higher than usual fuel price margins despite significantly lower oil prices, a new report has claimed.
The Australian Competition and Consumer Commission (ACCC) released the fourth quarterly report into the petroleum industry this week, and found retail margins were at their highest since monitoring began in 2002.
These margins are the difference between average terminal gate prices and average retail prices seen at the bowser.
"Retail petrol prices did not fall by as much as international prices, in part due to a weaker Australian dollar," ACCC chairman Rod Sims said.
"We will be closely monitoring gross retail margins in the coming months, because high retail margins likely indicate increased profits of the petrol companies at the expense of motorists."
Data showed there was an increase in the difference between the wholesale price and retail price in the September quarter, up 11.8 cents per litre (¢/L).
This was in spite of a drop in the price of crude oil – Singapore Mogas 95 Unleaded dropped A10¢/L between June and September, down from around A68¢/L ($US84 per barrel) to about A58¢/L ($US65 per barrel).
This suggested retailers were making more of a profit on their product, the ACCC believed.
FuelWatch manager Lynne Gould told The New Daily if the Australian dollar dropped one cent against the greenback, there would generally be a one cent per litre increase at the bowser in response.
"Because the Singapore price for petrol is in US dollars, the comparison of the Australian to the US dollar is always going to significantly impact petrol prices," she said.
Singapore Mogas 95 is used as a benchmark due to the country's importance as a global trading and refining point, and its proximity to Australia.
According to the ACCC, if the dollar was at the same level as it was in January 2013 ($US1.05) retail petrol prices in the September quarter would have been around 20¢/L cheaper.
Retail price drops, despite higher margins
The actual dollar figure paid at the bowser has dropped, but this fall was not comparable to the drop in crude oil prices.
Average retail prices in five capital cities were down 2.6¢/L compared to June, when they were 133.2¢/L.
---
Monthly average petrol prices (June and September quarters)
Sydney – June 140.1, Sept 130.1
Melbourne – June 139.3, Sept 127.6
Brisbane – June 144.6, Sept 130.6
Adelaide – June 140.6, Sept 129.0
Perth – June 138.2, Sept 129.3
Hobart – June 143.1, Sept 137.8
Canberra – June 144.5, Sept 132.8
Darwin – June 134.9, Sept 130.4
(Source: ACCC)
---
Although the Australian dollar did play a role, Ms Gould said there were other factors that influenced price change.
"The biggest influence is the benchmark price for the relevant fuel, and in this case it is the Singapore price for unleaded petrol," she said.
"We do find that prices tend to follow that overall with a two-week lag.
"But other factors are the administrative and retail marketing costs, the cost of running service stations – wages, rent, utilities – corporate taxes, government charges, so there are many other business factors that determine what actually is the profit margin at any site."
Local competition and the fuel site's ability to generate income from products other than fuel was also calculated in the advertised bowser price.
Sydney, Brisbane with highest margins
Sydney and Brisbane had the highest gross retail margins in September, around 14¢/L – six cents higher than in Melbourne.
Melbourne was the only capital city with a margin less than 10¢/L, as Perth and Adelaide recorded 12.3¢/L and 10.4¢/L for the month respectively.
Prices remained higher in regional areas due to less retail competition, lower fuel volumes sold, distance and lower convenience store sales.
But the influence varied from location to location.
Source: TND