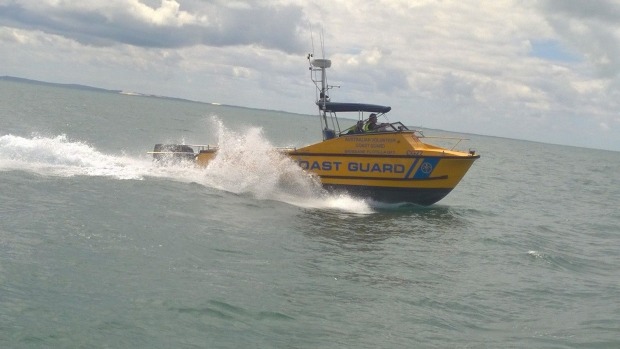 Elderly woman plucked from rough seas in Moreton Bay
An elderly woman and another woman who recently had a miscarriage were rescued from Moreton Bay after their boat sank as it was being towed to safety on Monday.
Brisbane Coast Guard made four rescues in high winds and seas up to three metres, including the group that had set out from Tangalooma on Moreton Island about 3.30pm.
About five nautical miles into their trip across the bay, the six metre runabout began taking on water and the engine stalled.
Boatie Jeremy Bulluss called the coast guard as he, his wife and his mother, 80, floundered in heavy conditions that also blew a Stradbroke ferry onto a sandbar on an unusually low tide, stranding 200 passengers for several hours.
Advertisement
Mr Bulluss's wife had suffered a miscarriage shortly before Christmas.
Coast Guard Squadron Commodore Ian Ratcliffe responded to Mr Bulluss's call for help in what was a "difficult rescue" amid 35 knot winds and high seas.
"By the time we reached Jeremy, his boat was already taking on water," he said.
"We managed to attach a tow line to the runabout, and tried to tow it to sheltered water in the Brisbane River, but the strong winds and rough seas proved too much, and the small vessel began sinking."
The stricken vessel was cut loose, leaving Mr Bulluss and the two women in the water.
Commodore Ratcliffe manoeuvred the rescue vessel around and his crew quickly pulled them aboard.
Mr Bulluss and his family were taken to the wter police base at Whyte Island
Source: Brisbane Times