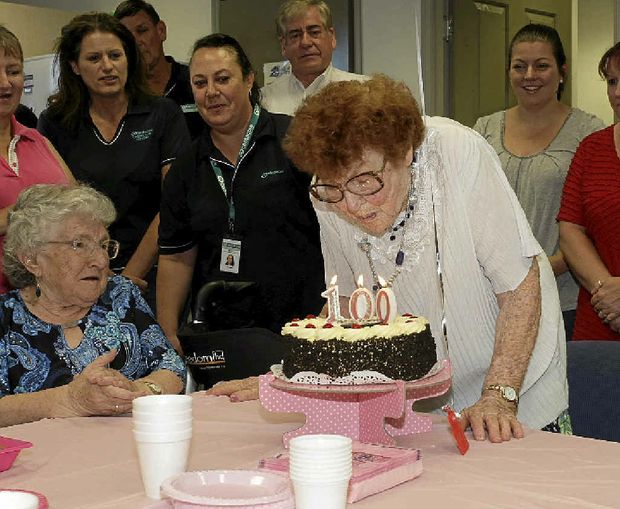 Caboolture resident Belle Cherry Full life for reaching 100 years
A LIFETIME worth a century was celebrated for Caboolture resident Belle Cherry last Tuesday.
Volunteers and staff of Centacare Caboolture Community Services organised the 100th birthday party for Ms Cherry.
The joyful event gave Ms Cherry's friends and those in the aged care service a chance to celebrate the long life of their oldest client.
The cake may not have had 100 candles on top but Ms Cherry blew them out anyway.
With a warm smile on her face, Ms Cherry said she had always carried on and never worried too much about life's hardships.
"Life is so beautiful, it's so lovely," she said.
Ms Cherry said eating two to three oranges every day had kept her healthy.
As a Young People's Sergeant-Major in the Salvation Army, Ms Cherry dedicated much of her life to assisting children since joining the Salvos in 1950.
There have always been many children in her own family to care for with 16 grandchildren and great grandchildren.
As well as a great many congratulations, Ms Cherry received a floral decorated china tea set from Centacare Senior Director of Community Services Jenny Clark.
Ms Clark said she was an inspiration for everyone.
"To see someone who is still quite active at 100, what an amazing achievement," she said.
"We've got about 8000 older people that we help in one way or another from Hervey Bay to the border and out west but only 30 of them are 100 so she joins an elite little group."
Source: Caboolture News