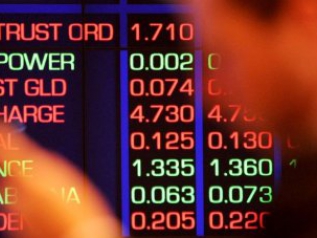 Australian shares buck three sessions of losses, market buoyed by US jobs data
Australian shares have bucked three sessions of losses to finish marginally higher.
The local share market was buoyed by Wall Street, which jumped on Friday as United States jobs data suggested the economy was strong enough to sustain a Federal Reserve rate hike this month.
The ASX 200 index pushed 0.1 per cent higher to finish on 5,155 while the All Ordinaries Index also added 0.1 per cent to close at 5,205.
Many investors are taking a cautious approach heading into Christmas, with the end of the year looming.
There is also uncertainty surrounding the Federal Reserve's rate hike, which would be the first in nearly a decade.
Gains in banking stocks were offset by a drop in oil companies.
Commonwealth Bank gained 0.4 per cent, while Westpac and ANZ Bank added 0.7 per cent and 0.6 per cent each.
Oil prices slump after OPEC fails to agree on output target
Major oil companies Woodside Petroleum tumbled 3.7 per cent, while Santos plunged 10 per cent.
Source: ABC News
Oil prices slumped after OPEC members failed to agree on output targets to reduce a bulging glut that's resulted in oil prices falling by more than 60 per cent since June 2014.
Telecommunications giant Telstra continued its fall, losing 1.7 per cent.
Meanwhile, real estate company McGrath debuted on the stock exchange at a 7.6 per cent discount after raising $130 million in the country's first initial public offering of a residential property agent.
The dollar is flat against the greenback and was buying $US73.3 cents at about 5:00am (AEDT).
It was also fetching 67.5 euro cents, 90.4 Japanese yen and 48.5 British pence.
Spot gold was buying $US1085 dollars an ounce, West Texas crude was fetching $US39.95 a barrel and in Singapore, Tapis crude was at $US43.24 a barrel.