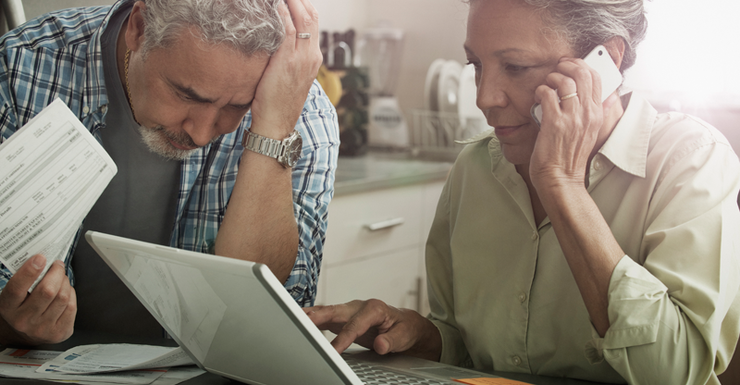 Telstra slammed for 'discriminatory' new billing charge
Multi-billion dollar telco defends decision to slug customers as 'partial offsetting' of costs.
Telstra's decision to impose a 60 per cent fee hike on customers who receive a printed bill has been labelled "discriminatory" and "nasty" by seniors groups and customers.
In a letter dated 13 November, Telstra announced it would increase its "monthly charge for non-electronic billing and payment methods".
Telstra customers who receive their bills on paper via mail or pay monthly accounts face-to-face will be slugged $3.20 a bill, up $1.20 from the current $2 charge. The increase will take effect on 28 November. Telstra recorded a profit last year of $4.3 billion.
The move has been strongly criticised as harmful to older Australians and those who cannot afford digital delivery.
One customer faced with the increase described the price rise as "nasty", particularly because she has been a customer with the telco for more than 25 years.
"I like to keep the bills for tax time," Helen McKenzie told The New Daily. "I use my home and mobile for work so sometimes you need the bills in hard copy for tax purposes.
"Telstra have been increasingly getting nasty. Your overdue payment is $15 as well, and it was already $2 for the paper bill and now they're putting it up."
She explained that she also paid her elderly mother's bill on her behalf. Ms McKenzie's mother lives in a nursing home and she is concerned that the face-to-face method of payment will now incur the fee.
"It seems like they want everyone on direct debit, to make it easier for them," she said.
National Seniors chief executive Michael O'Neill told The New Daily the increase was "discriminatory" toward "vulnerable" sections of the community, both young and old.
"People with more difficult financial circumstance, of all ages, will not have access to electronic delivery," Mr O'Neill said.
"These groups are vulnerable in the community and that kind of impost from Telstra really is very disturbing.
"It is quite discriminatory to add that kind of impost when Telstra is well aware the impact will be most felt by people who don't have access to, or don't wish to use, electronic accounts."
Mr O'Neill said any concessions for some segments of the community "didn't matter", because he believed the charge should not be there in the first place.
"I think it is quite discriminatory that they should penalise people for choosing to continue to do business in the way that Telstra has offered it," he said.
"That could be because they can't afford to, they don't have access to them, or they prefer to do their business in the traditional way."
How the charge could creep up on you
In a statement to The New Daily, a Telstra spokesperson confirmed the hike and said: "This fee partially offsets the cost of processing, producing and printing bills and receiving payments.
"Pensioners and health care card holders are automatically exempt from this fee," the spokesperson said.
"It is all set up with them when they connect or they advise us they have become eligible.
"We have about 980,000 customers claiming our pensioner discount, which includes a reduced connection fee and a monthly discount on charges."
Are you affected?
Customers who were not a pensioner or were not a healthcare card holder at the time they signed up with Telstra will be charged unless they inform Telstra their circumstances have changed.
In the letter, no information was included about the need to make such a change or that pensioners could receive a discount.
"This fee applies to only a small percentage of our total customer base, depending on the plan and the services you have connected through us," the spokesperson said.
Telstra claimed it did not profit from the measure.
Telecommunications industry expert Paul Budde told The New Daily there would be a significant cost for telcos in conducting billing manually.
He said the cost of producing a paper bill would be significantly higher than $3.20 per copy.
"There is no doubt about that," Mr Budde said. "You've got to remember that it is a commercial business.
"But customers will always want the cheapest or most efficient system they can get."
Source TND