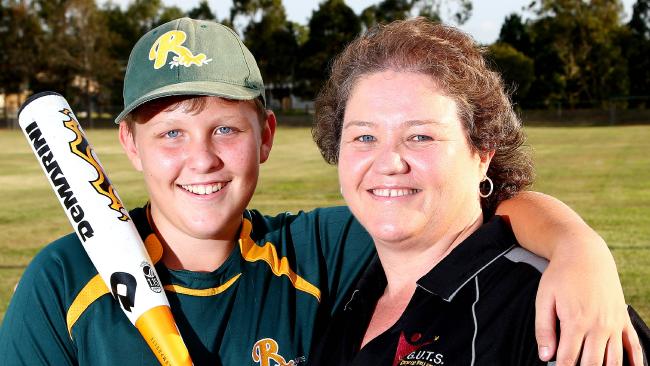 Strathpine mum uses family tragedy and support from Pine Rivers Rapids to launch GUTS and help disadvantaged children
A Strathpine mum is using a family tragedy to help disadvantaged children.
Kathy Bretherton's husband Simon Gould passed away suddenly last year. It struck the family hard, particularly 14-year-old son Aaron.
But they found support and strength at Pine Rivers Rapids Baseball Club – and that inspired Ms Bretherton to start Grow Up Thru Sportz.
The not-for-profit foundation, which was registered through the Australian Sports Foundation in August, is now ­relying on people to dig deep.
"I've always believed sport was a great thing for children but I guess until you're in a situation like that you don't understand the depth of positivity sport can bring to kids," Ms Bretherton said.
She said support from the club helped Aaron mature and "sparked" him to ­believe in a dream of playing in baseball's major leagues.
She said Grow Up Thru Sportz aimed to "bridge the gap" for disadvantaged families and help cover costs of membership, uniforms or equipment for any sport.
"What we'd like to do when we have the funds ­behind us is fully-fund and child's sport," Ms Bretherton said.
She said it could help a family struggling with the costs of special needs care, which might be preventing siblings from joining a sport.
"I truly believe it takes a community to help raise our children and I am passionate about providing our kids every opportunity to grow in the best possible ­environment within their local community," she said.
Former Brisbane Bandits import CJ Beatty has used his music skills to write a theme song for Grow Up Thru Sportz, with proceeds from online sales of Believe in My Dreams to go to the foundation.
"Kathy reached out to me via Facebook. She wanted a positive, upbeat and strong message. So I went to work," he said.
"I think organised sports are imperative in youth development. They teach team building ... and teach the reward of practising."
Tax-refundable donations can be made at Grow Up Thru Sportz Queensland site
Source: Quest News