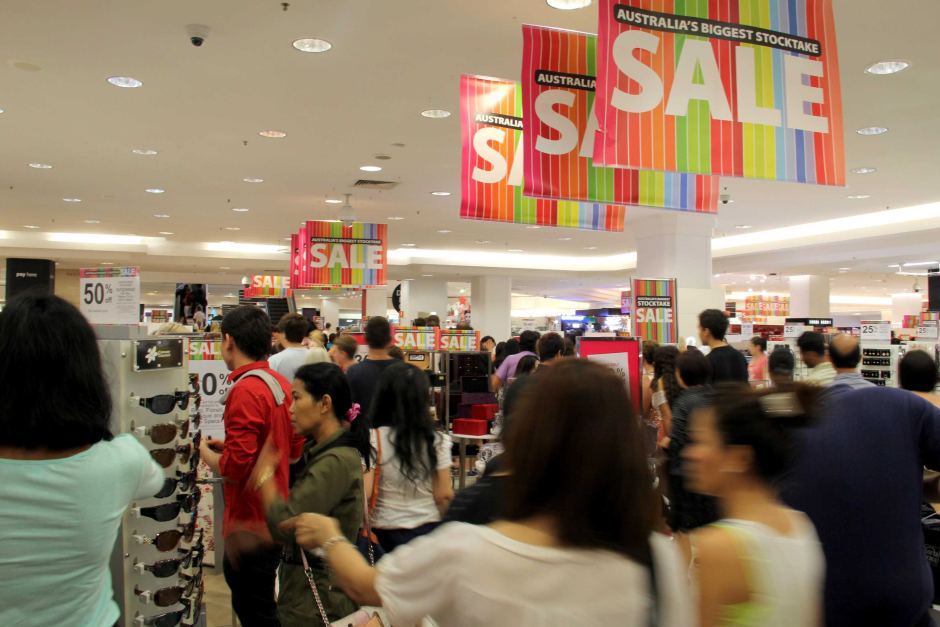 Retail sector to tackle falling dollar, broadening foreign competition in lead-up to festive season
While consumers may have a spring in their step, the jury is still out for Australian retailers and the falling dollar.
As retailers head into the festive season, confidence is at a two-year high.
"We think we're going to have a very good Christmas," Harvey Norman founder Gerry Harvey said.
Mr Harvey's confidence comes despite the dollar's recent dramatic falls, which for a business built on imported electrical goods like Harvey Norman, could have been disastrous.
"I thought prices would go through the roof with the dollar dropping from over $1 to 70 cents," Mr Harvey told the ABC.
In theory, televisions and other electrical items should be about 35 per cent dearer than when the dollar peaked at 110 US cents in 2011.
What Mr Harvey has found though, is that foreign-based manufacturers like Sony, LG and Samsung have borne the burden of the currency movement to maintain their sales volumes in Australia.
"It's always a little bit about capacity to pay, so when a currency is very strong in a country, the manufacturers get a little bit more out of them," he said.
"They are making money in whichever country, not making so much in this one ... so they balance their books."
We are not retailing in the same way we used to ? we manage our inventory better [and] we use technology to understand our shoppers better.
Kevin Moore, Crossmark retail strategist
That means Harvey Norman can keep healthy margins on imported electricals without having to raise prices.
In furniture though, overseas companies are passing on the higher currency costs so Harvey Norman has gone local.
"The Australian manufacturers are expanding their businesses, opening new businesses and we are doing a lot of business now with Australian companies," Mr Harvey said.
Australian furniture makers buy a lot of their timber from overseas though, which is why long-time retail analyst Peter Ryan, from Red Communications, thinks shops like Harvey Norman will eventually take a hit if the dollar stays low.
"In the short-term there may be some suppliers who aren't confident enough to lift their prices or there may be some retailers putting the pressure back onto the suppliers to say: 'You absorb it because we don't want to.' That's not sustainable."
Fellow retail strategist Kevin Moore, from Crossmark, is more optimistic.
Even though the price of things like imported clothing and apparel has risen around 24 per cent in the last three years, he thinks many shops will have had a similar experience to Harvey Norman in discovering that a lower dollar does not automatically mean lower margins.
Retail sector innovation impressive: analyst
Mr Moore said he was seeing innovation right across the sector.
"We are not retailing in the same way we used to," he said.
"We manage our inventory better, we use technology to understand our shoppers better.
"Big chunks of our sales are now online. If someone in the clothing sector is not doing 15 to 18 per cent of their business online they are missing a trick."
He said he was particularly impressed with youth-focused stationery and gift chain, Smiggle, as well as electrical and music outlet, JB Hi-Fi.
Even perennial whipping boy Myer was getting its act together, he said.
"I look at what Myer is now doing at looking at their space, how they use their space better and we're almost back to the future in that we have concessions in the store trading phenomenally well," he said.
"You get the best of an independent retailer inside a department store."
Another challenge from the lower dollar is that Australia is now a much more appealing destination for foreign retailers.
With chains like Zara, H&M, Topshop and UNIQLO among those opening up down under, local retailers now also have the threat of extra competition.
Mr Ryan says it will be a challenge they are not prepared for.
"Global competitors are going to the same sources to buy their product, but they have much, much bigger order books," Mr Ryan said.
"So the prices they can get out of the factory gate are much better than Australian retailers can."
In the short-term though, the retail focus is Christmas, which is just six weeks away.
Australian retailers will be enviously looking at China's 'Singles Day' yesterday, where $20 billion was spent online in just 24 hours.
Source: ABC News