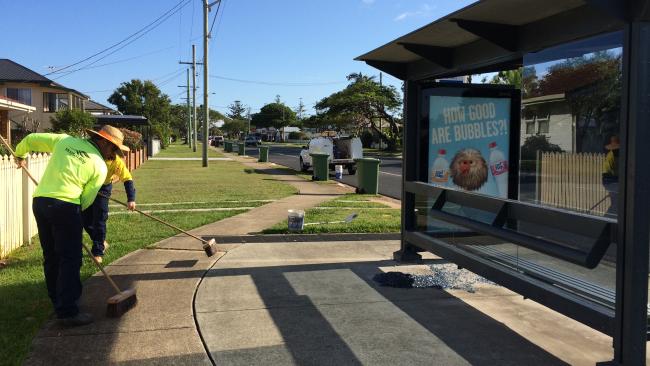 Police charge two 17-year-olds with more than 67 counts of wilful damage after vandals attacked 55 bus shelters in Redcliffe, North Lakes and Deception Bay
Police have charged two 17-year-olds, one from Kippa-Ring and the other from Mango Hill, in relation to the vandalism of 55 bus shelters at Redcliffe, Deception Bay and North Lakes during the past three weeks.
It will be alleged a slingshot was used to fire projectiles, smashing glass panels in the bus shelters, from mid October to November 11.
Police went to an address at Kippa-Ring on Thursday where it is alleged they found cannabis and a set of scales.
The youth from Kippa-Ring was charged with 67 counts of wilful damage, 15 counts of supplying a dangerous drug and a number of other drug offences.
The Mango Hill youth has been charged with 12 counts of wilful damage.
Redcliffe Police Station acting officer-in-charge Aaron Firth said the Kippa-Ring youth was identified during investigations on Thursday.
The charges are also in relation to alleged damage to car windows and homes.
We analysed intel we had and also had information from the public, acting Senior Sergeant Firth said.
It is an excellent result.
Sen-Sgt Firth said the investigations were a joint effort of the Moreton Bay Child Protection Investigation Unit and other units in the Moreton South Patrol group.
The damaged bus shelters are co-owned by Moreton Bay Regional Council and TransLink.
Mayor Allan Sutherland said the council had forked out close to $200,000 in cleaning up the mess and repairing the shelters.
Both youths will face Redcliffe Magistrates Court on December 7.
Source: Quest News