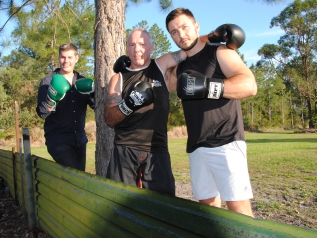 Local Caboolture fighter Troy Crane has picked a fight and he needs witnesses to the event.
This fight is a winner takes all, against the tough European Borko the Serbian Wolf Radakovic. The prize money and 100% of funds raised will go towards constructing a new six foot wooden fence for local not-for-profit disability support service, Caboolture Family Network (CFN).
There is something about this boxer that rings out across the region, a man who gives his all for causes he believes in, and Troy believes in this one.
For more than 12 years, the Caboolture Family Network has provided care and support to children and parents whose need is far greater than others.
The CFN has given refuge, care, respite and support to families who are in desperate need of assistance with their disabled child or children.
And they have a dream, a dream that Troy, along with Borko, are hoping to achieve by stepping back in the ring.
The dream is simply to fence the property, however as a not-for-profit organisation, funds are tight and according to a CFN spokesperson the organisation is unable to create a safe play area for the numerous disabled children, many with little understanding of the dangers of traffic.
Unfortunately, the perimeter of The Retreat grounds are not secure and we need just a little more help for this vital fence improvement, Debbie Mansbridge from Caboolture Family Network said.
We are so grateful for Troys help in our battle for a safe haven for the children and we hope Caboolture residents will turn up to support both Troy and CFN on fight night.
Importantly 100 percent of the funds we receive from the fight goes toward the fence project.
The battle between Troy and the Wolf will take place on 21 November 2015 at 7pm at Fortitude Boxing, 12 Kyabra Street Newstead.
State Member for Morayfield, Mark Ryan MP, is continuing a long history of support for Caboolture Family Network by helping to promote the fight.
Caboolture Family Network have rolled with punches for a long time and now it is their turn to hit back by being able to provide a safe secure area for kids with special needs who are able to enjoy their time out in the sun, Mr Ryan said.
Tickets for the fight can be purchased by phoning Steve Deller on 0449 847 779 and donations towards the fence can be made at the Donations page at CFN
Check the 101.5 FM Events Page for more details