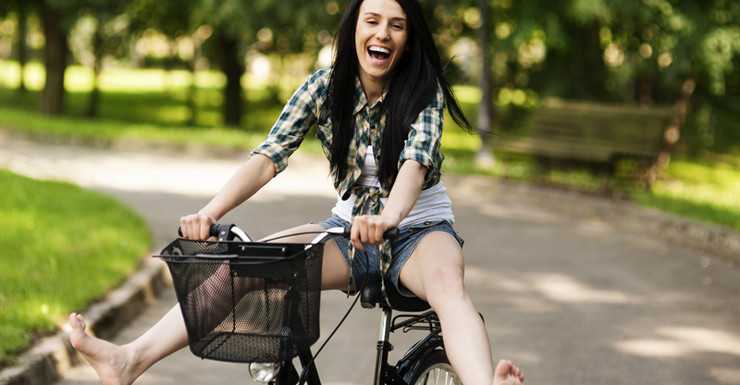 Ditch the helmet ? 'A rethink of bike helmet laws is needed'
The legal requirement to protect your head while cycling may in fact be useless.
In 1991, Australia became the first country in the world to legislate for the mandatory wearing of bike helmets. But we may have got it wrong.
According to a new study by Canadian public health experts, bike helmet legislation does not improve the safety of cyclists.
The study published in The British Medical Journal analysed data on bike-related hospitalisations across 11 jurisdictions with varying bike helmet laws and concluded that helmet laws were "not associated with reduced hospitalisation rates for brain, head, scalp, skull or face injuries".
An Australian public health expert confirmed to The New Daily the results were consistent with current research, which shows "the same lack of effect".
Sydney University's Professor Chris Rissel said the "safety in numbers phenomenon" dictates that the removal of impediments to cycling and increased cycling infrastructure would ultimately encourage more people to take up cycling and, statistically, make cycling safer.
That idea was supported by a 2012 study into bike sharing schemes in Melbourne (Melbourne Bike Share) and Brisbane (CityCycle), which found the schemes were only receiving around five to 10 per cent of expected usage. One of the main factors identified was mandatory wearing of bike helmets.
"My own research indicates that bicycle injuries in Australia were already declining since the 1980s as a result of general improvements in road safety conditions, and helmet legislation made little difference," Professor Rissel said.
"A survey of Sydney residents found that 23 per cent said they'd ride more if they didn't have to wear a helmet, and if only some of these people did, across Sydney this would potentially double or triple cycling participation."
Nik Dow, a member of the Australian Cyclists Party's national committee, told The New Daily there needed to be a rethink of bike helmet legislation in Australia.
"Safety comes from preventing collisions and making roads safer in the first place, not from only personal protective gear," Mr Dow said.
One of the policies listed on the ACP website is a call for a national inquiry into the legislation, with the ultimate aim of new laws "that would allow adult cyclists the choice of wearing a helmet or not".
"We recommend a staged relaxation to give people confidence so we can collect properly," Mr Dow said.
Another way to encourage cycling, according to Professor Rissel and the ACP, is to increase funding for bike infrastructure, mainly through the addition of dedicated bike lanes.
The City of Melbourne is spending $5 million on a bicycle action plan to turn Melbourne into a "cycling city" similar to those bike-friendly countries like the Netherlands and Sweden, where bike lanes are provided when the speed limit is over 30km/h and strict rules in local roads that discourage through traffic.
Ed Butler, a Melbourne resident who commutes to work by bicycle, recounted two accidents where his protected head struck concrete. He consistently wears a helmet, but maintained that cyclists should still be given freedom of choice.
"There may not need to be laws around helmets, but that could only happen if there was good education around the importance of helmets among cyclists, as well as cycling safety, and an equal amount of education for drivers around how to drive with cyclists and be wary of them," Mr Butler said.
"In the end, in this kind of situation, I tend to favour people's personal choice and their right to take risks."
This was the approach favoured by ACP's Mr Dow, who wanted to afford cyclists choice while also teaching safe cycling.
"We look forward to a day when there is no need for helmet laws for anyone of any age, but we don't think the community is ready to lift the law off children just yet, so we need to take that first step by relaxing [bike helmet laws] in adults."
Source: TND