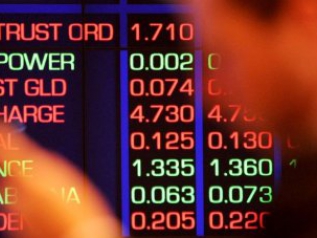 US Federal Reserve hint of rate rise sparks share market losses
There was a sea of red on the share market after the US Federal Reserve hinted it could raise interest rates in December.
The All Ordinaries Index lost 1.2 per cent to close at 5,310 and the ASX 200 index lost 1.3 per cent to finish on 5,267.
Vitamin maker Blackmores was one of the standout performers, soaring briefly above $200 after it revealed plans for a joint venture with Bega Cheese to launch a new food range including infant formula.
It also said first-quarter profit after tax had more than doubled to $22.6 million.
It is believed to be the first company to hit the $200 mark on the Australian stock market since the ill-fated nickel miner Poseidon in 1970.
Blackmores shares closed 12.9 per cent higher at $175.51.
ANZ has reported another record profit, up 3 per cent to $7.5 billion despite higher write-offs for bad debts.
Cash earnings were $7.2 billon but growth was at a standstill.
Shareholders will get a total dividend of 181 cents for the year, up 2 cents from last year.
ANZ shares closed down 2 per cent at $28.17 and NAB lost 4 per cent to $30.46.
Woolworths shares have tumbled by 9.8 per cent to $24.70 after the supermarket chain warned profits for the first half of this financial year would slump by around a third to between $900 million and $1 billion.
It said that is because of a big overhaul of its business, including cutting prices, boosting service and launching a new rewards program.
The grocery giant gave the warning as it said sales slipped by 2.5 per cent in the first quarter, in part due to lower petrol prices.
The dollar is lower on those rate rise hints from the US Federal Reserve and about 5:00pm AEDT it was buying 71 US cents and fetching 65 euro cents, 85.8 Japanese yen and 46.6 British pence.
Spot gold was buying $US1162 an ounce and West Texas crude was fetching $US45.88 a barrel and in Singapore, Tapis crude is trading at $US49.65 a barrel.
Source: ABC News