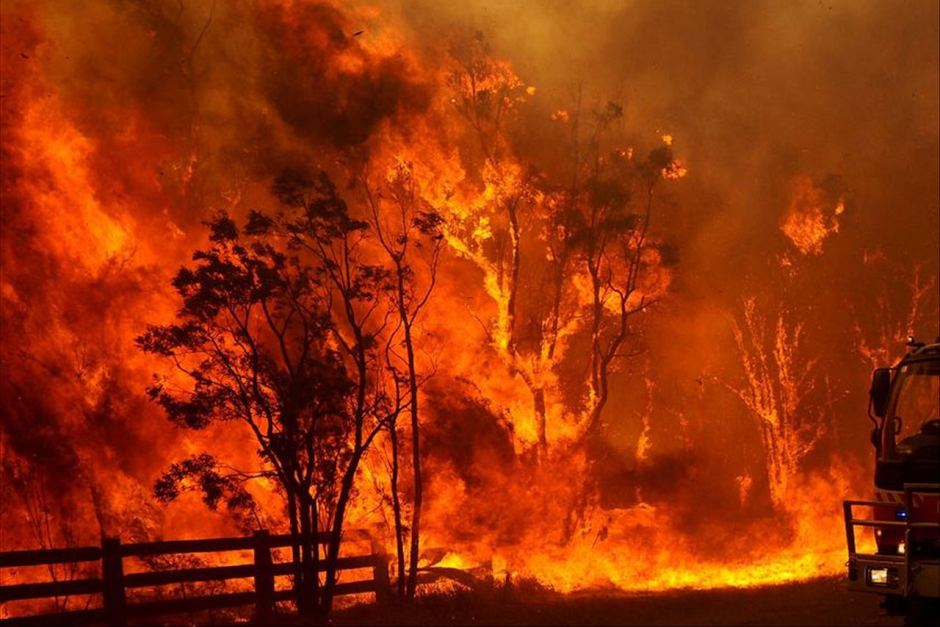 Queensland coast warned to prepare for hot, fast fire season
The Queensland Rural Fire Service says fires on parts of the state's coast will burn hotter and faster this season due to the ongoing dry.
According to the Keetch-Byram Drought Index, some coastal cities such as Townsville, Cairns, Mackay and Bundaberg are higher on the scale than drought-affected towns like Birdsville and Charleville.
The index is used by rural fire brigades to predict the intensity of fires by reflecting the dryness of soils, deep forest litter and heavy fuels, expressed as a scale from zero to 203.
Acting Bundaberg area director Phil Williams said fires in areas high on the index will start faster, burn hotter, and will be difficult to suppress.
"The drought index is basically a measure each day of the temperature that dries out the fuels and takes out the moisture," he said.
"That's dissipated by any rainfall that we've had.
"Currently we're [Bundaberg] on a measure of around 170 millimetres, which means that we need that amount of rain to saturate the soils and the fuels, which is quite significant."
He said the index allowed coastal areas to put their level of dryness into perspective, and what that might mean for the upcoming fire season.
"Most of the state is very, very dry," he said.
"But it's unusual for us here on the coast to be that dry, in comparison with those sort of areas."
The Keetch-Byram Drought Index
Townsville - 201
Cairns - 188
Mackay - 187
Mt Isa - 185
Longreach - 184
Bundaberg - 170*
Rockhampton - 169
Birdsville - 163*
Charleville - 148
Gympie - 123
Brisbane - 116
Toowoomba - 69
Sunshine Coast - 56
As at 23 September 2015 *Updated 10 October, 2015
While the availability of fuel in some of the worst-hit drought areas might be a factor in why they are further down the scale, Mr Williams said communities that are high on the index need to be prepared for a high-intensity season.
"Suppression of those fires once they've started becomes much more difficult, probably a bit more dangerous, and we often have to fall back rather than get in next to the flames," he said.
"We have to fall back to roads or tracks or constructed fire breaks.
"The intensity of the fires is higher, which means they're hotter and they're generally travelling faster. With the winds we've had recently that's exacerbated that situation."
Mr Williams said he has written to local brigades and wardens to warn of the intense conditions.
He said volunteers will also need extra support this season, as fires are likely to take longer to control.
"When fires start, it's likely to consume a lot of the fuel on the ground?even trees and dead timber?and that means there's more chance of them escaping later," he said.
"We need to mop up and patrol those fires for longer so it takes up time."
He said October 13 is Yellow Ribbon Day, which is an opportunity to show support for the 36,000 volunteer firefighters who protect 93 per cent of Queensland, and urged residents to consider joining their local brigade.
"It doesn't mean you have to be a firefighter, there's other jobs in rural fire brigades that you can support and assist them with," Mr Williams said.
"Even making sandwiches or manning radios or helping to make sure the trucks and equipment are in good working order.
"There are different ways to help your community."
Source: ABC Rural News