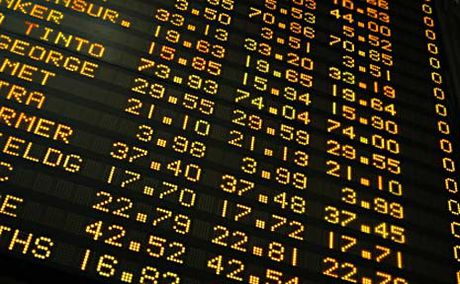 Losses across the board as Australian stock market slumps
It has been a poor start to the week for the Australian stock market after last week posting its best weekly performance in four years.
The All Ordinaries index lost 0.8 per cent to close at 5,267 and the ASX 200 index fell by 0.9 per cent to finish on 5,233.
There were losses across the board, with energy, utility and healthcare stocks faring the worst.
In the energy sector, the takeover target Oil Search shed 4.2 per cent to $7.34 and Origin Energy gave back 3.5 per cent.
Banks were also out of favour with the Commonwealth Bank faring the worst of the big four, closing down 1.2 per cent at $74.65.
Gold miners were a rare bright spot with Evolution Mining soaring by 11.5 per cent to $1.50 and Australia's biggest gold miner, Newcrest, gaining 1.5 per cent to $14.71.
The yellow metal hit a seven-week high last week when minutes from the US Federal Reserve's latest meeting showed it was in no hurry to start raising interest rates.
In company news the taxi payments firm Cabcharge closed down 2.9 per cent at $3.02 on the day the ACCC said it was likely to reject a new smartphone app for taxi bookings.
The ihail app would give passengers a single platform to book taxis regardless of which network the driver belongs to.
But the ACCC said despite the convenience it would offer, the app would have a significant impact on competition.
Cabcharge is one of the initial members of the joint venture, and would process all payments made through the app.
The dollar was steady against the greenback after posting strong gains on Friday; a short time ago it was buying 73.3 US cents, 64.5 euro cents, 88.2 Japanese yen and 47.9 British pence.
Spot gold was higher at $US1,165 an ounce while West Texas crude oil was fetching $US49.62 a barrel.
Tapis crude was buying $US54.59 a barrel.
Source: ABC News