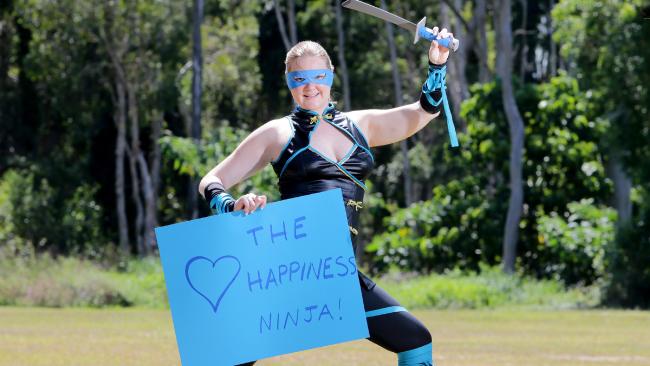 Happiness ninja spreads good vibes to raise awareness for mental health
Caboolture has its very own street fighting ninja but instead of targeting the bad guys, she is fighting for happiness.
Caboolture resident Jamie Rose Brown has been donning her ninja costume for the past few months and hitting the streets in Sydney, Townsville and Caboolture to carry out random acts of kindness.
They have ranged from handing out bottles of water at the top of a hill to paying for other peoples coffee.
The reaction I have been getting is mostly good, people get a laugh out of it, Ms Brown said.
Some people want to engage in more conversation about why Im doing it and others can be quite rude and dont want a bar of me.
Ms Brown said she hopes people will pay forward the kindness.
I also leave a card that says, youve been ninjad with kindness. Keep the ninja alive by doing a random act of kindness and passing along this card within five days, she said.
After suffering from suicidal thoughts and depression since she was a teenager, the 30-year-old said the Happiness Ninja advocates to remove the stigma of mental illness.
She said she particularly hopes to help those from a low socio-economic background who often cannot afford to get help through other means.
A vocational trainer and assessor, she said she came up with the idea through her work, and now hopes to help others through positive psychology.
To find out more visit www.slademindhealth.com.au
If you are suffering from depression call Lifeline on 13 11 14.