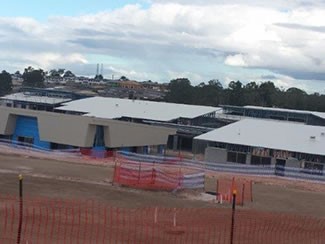 Griffin State School named
Education Minister Kate Jones today announced a new school to open in the Pine Rivers area next year has been officially named Griffin State School.
Ms Jones said the school was named after the Griffin family, the first European settlers in the area located just north of Brisbane.
The naming process was part of extensive consultation undertaken with the community in the lead up to next years opening, she said.
We have worked in partnership with local families to create a warm, respectful and supportive school community from the ground up.
The local community wanted a name that reflected the history of their district and one that identified the school as a vital hub for this fast-growing suburb.
Member for Murrumba Chris Whiting said Griffin State School would be completed in time for the start of the 2016 school year.
The modern facilities include 16 classrooms, an administration building, a resource centre, music rooms and a science laboratory, Mr Whiting said.
More than 200 students from Prep to Year 6 expected to begin the school year in this world-class education facility.
At present, the nearest primary schools for Griffin residents are Mango Hill, Undurba and Kallangur state schools.
Foundation Principal Vicki Baker said that the schools facilities would be state-of-the-art, ensuring students had what they needed to be successful 21st century learners.
There is a high level of excitement in the local community about the school and we are committed to working with parents to provide the best learning experiences possible for students, Ms Baker said. The new facilities will include flexible learning spaces which support our focus on creativity, innovation and technology.
There will be a strong emphasis on the performing arts and on using new technologies to facilitate learning.
Ms Baker said the school anticipated enrolment of about 800 students within five years with extensive housing development underway in the fast-growing region.
The new site will provide an inviting and flexible environment for students to learn and staff to work, she said.
We are looking forward to engaging parents and the community in the life and learning of the school.
For more information on the school visit (external site)
Contact information
Address: 19 Wesley Street
Griffin QLD 4503
Telephone: 0409 461 023
Email: vbake1@eq.edu.au