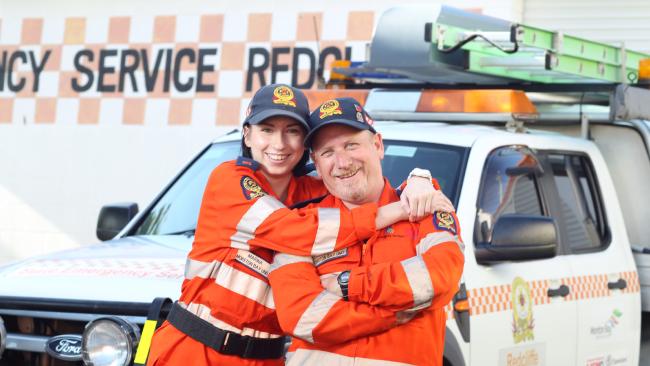 Dad, daughter explain why they joined Redcliffe SES group
The actions of SES volunteers during the 2011 floods inspired Marina Welsh to join the Redcliffe SES Group.
The then 16-year-old was keen to sign up ? the only problem was that she needed a parent to join, too. Her dad Dean was happy to oblige.
It is the best thing she has ever done for me, he said.
You get great satisfaction from helping someone with water pouring in through their roof or in need.
Ms Welsh, now 20, said she had no idea just how much SES volunteers did before she joined. Both helped with the clean-up that followed flash flooding in parts of Rothwell and Deception Bay on May 1.
It is amazing how well people work together. We all want to achieve the same thing and help people, Mr Welsh said. The training means we are well-equipped to deal with any situation.
From repairing storm damage and cleaning up after floods to searching for missing people and conducting rescues, there is little the regions Orange Angels have not done.
This week is SES Week, a chance to recognise the dedication, commitment and service of all SES volunteers.
Moreton Bay SES controller Henk Van Den Ende said his team had ?answered calls for help close to home and much further away.
Mr Ven Den Ende said the volunteers and the work they did was vital to the community.
It has been a very busy year for Moreton Bay units, he said.
We had the flow-on ?effects from Cyclone Marcia and the big rain event in May. We also sent members to Rockhampton to help with the clean-up and into New South Wales.
All 50 Redcliffe volunteers are bracing for the busiest time of the year ? storm season.
As a unit we are ready for the storm season and whatever comes our way, Mr Ven Den Ende said.
The group also took part in a combined training session at the weekend with crews from across the reg?ion. The training included search and rescue for bushwalkers trapped by flood?water in mangroves, and finding and towing fishers to safety.
Mr Van Den Ende said they were always looking for more volunteers.
People wanting to join can fill out the forms via the Moreton Bay Regional Council or SES websites. They can also visit the Redcliffe base at Portwood St at 7pm on Wednesdays.
There are 50 SES volunteers in Redcliffe
The most common reason for call-outs for the Redcliffe unit is storm damage
Volunteers are trained in areas such as safety at heights, chainsaws, operations, communications
The number of hours volunteered is up to the individual
Source Quest News