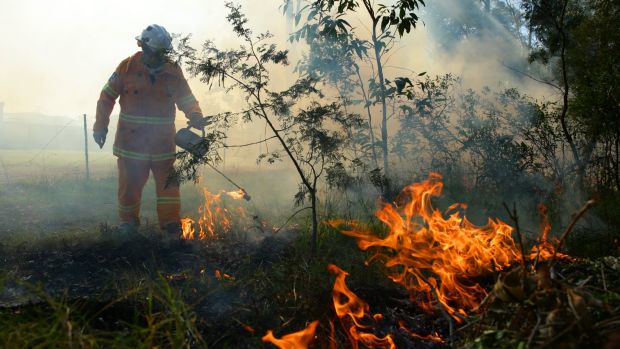 Smoke signals perfect weather for bushfire mitigation
Smoke is in the air as Queensland Fire and Emergency Services (QFES) work with land management agencies to take advantage of favourable weather conditions to prepare for the upcoming bushfire season.
Landowners across Brisbane Region are also preparing for the season by conducting hazard reduction burns, aiming to lower fuel loads and minimising bushfire risk.
Rural Fire Service (RFS) Bushfire Safety Officer Liane Henderson said residents who see smoke in the air shouldn't be alarmed.
"Hazard reduction burns are an important bushfire mitigation strategy collaboration between QFES and land management agencies as they lower the potential of a bushfire starting in that area. If one should ignite, the intensity will be reduced," Ms Henderson said.
"By burning ground fuels now, bushfires that occur in the region will be is easier to manage and control, but unfortunately it means smoke could impact Brisbane residents while we undertake this risk reduction activity.
"Community safety is always our top priority and by getting in and burning now, we increase our ability to protect the community come bushfire season."
Ms Henderson said smoke in the air now was a small price to pay for community safety and encouraged affected residents to seek information from landowners or through QFES.
"QFES will continue to support landowners with their hazard mitigation activities, as long as conditions remain optimal for burns," she said.
"We thank everyone for their patience as we know smoke can be difficult to keep out of your home, but these burns will protect property, families and the wider Brisbane community.
"We do our best to notify everyone who will be affected by burns, including door-knocking, public meetings, social media posts and community notices but at times the message can be missed by some.
"If you notice smoke in the air and are unsure of its source, please visit the RFS website where current bushfire incidents are listed."
Ms Henderson said bushfire preparation was important for families and encouraged the community to be proactive when it came to bushfire planning.
"Having a well-practiced Bushfire Survival Plan is one of the best ways to ensure you and your family know what to do should a bushfire start in your area," she said.
"There are a number of easy ways you can prepare your property, including keeping your lawn trimmed and free of leaves, clearing debris from near the house, ensuring your street number is clearly visible from the road and making sure water sources have clear access for firefighters.
"These are simple steps but will go a long way to prepare your property for bushfire season."
For more information on upcoming burns or how to prepare for bushfires, please visit www.ruralfire.qld.gov.au or visit the QFES Facebook page.