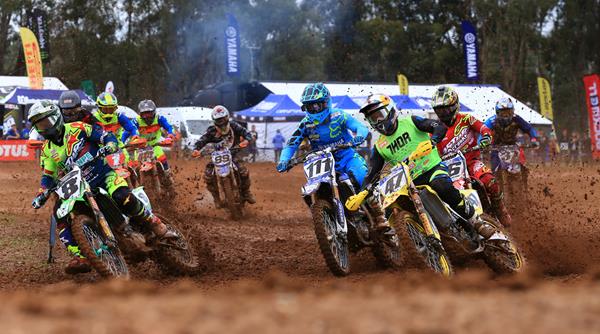 Motul MX Nationals championships set to go down to the wire
This weekend, the battles on track will resume, with the first of two huge Queensland based final rounds of the 2016 Motul MX Nationals set to play out, starting with Round 9 at Toowoomba in Queensland, this Sunday August 21.
With championships across all classes now separated by less than ten points after eight rounds of racing, the chase for 2016 titles is well and truly under way, and with a grand finale at Coolum in just two weeks' time looming in the background, racing at the penultimate round at Toowoomba is set to be one of the most action packed events in MX Nationals history.
With the Toowoomba circuit well known for it's traditional style motocross format, riders will be forced to utilise their skill and expertise at the steep, rutty, and rough terrain venue, and with starts at Echo Valley crucial to results, riders will be putting everything on the line in order to snatch up maximum points as they approach the first turn on Sunday.
With KTM Motocross Racing Team's Kirk Gibbs currently leading the Thor MX1 title chase from CDR Yamaha's Dean Ferris by only nine points, Round 9 of the Motul MX Nationals at Toowoomba could provide Gibbs with the chance to stamp his authority on a second consecutive MX1 championship.
However, with Ferris showing new dominance since the mid-season break, and Wilson Coolair Motul Factory Suzuki's Todd Waters (currently third in the championship standings) chasing an elusive second overall round win in the background, the top three riders will have the gloves off on Sunday, all in a bid to capture a 2016 title.
The last time the MX Nationals visited Toowoomba in 2015, both Ferris and Waters were busy racing on the world stage in the MXGP's in Europe, while Gibbs concluded the ninth instalment of the 2015 series just shy of the MX1 podium in fourth overall, narrowly missing out on the opportunity to wrap up last year's title a round early.
Fast forward a year, and with all three riders showcasing their undeniable capabilities at all venues this season, and now all within striking distance of a 2016 championship, the stakes will be even higher when the trio arrive at Echo Valley for Round 9 at Toowoomba this weekend – all ready to play their part in a three-way battle for the title.
In the Motul MX2 class, DPH Motorsport's Jed Beaton currently carries the championship red plate, however is tied on points with Husqvarna rider Nathan Crawford as the series heads to Toowoomba.
Beaton, who has had a full schedule throughout the last two weeks after making his MXGP (EMX) debut in Switzerland, will be hoping to extend his lead and separate himself from his closest competitors this coming weekend, however with Toowoomba marking the first of two North based final rounds, both Queenslanders Crawford, and third placed Caleb Ward (KTM Motocross Racing Team) will be hoping to capitalize on the local Queensland support.
Back in 2015, it was Ward who performed best of the top three in the MX2 class, collecting third overall for the round, while Crawford concluded last year's outing in sixth, followed by Beaton in seventh.
But with all riders now far more experienced and mature, this year's round nine is set to play out very differently, and with a championship on the line, spectators will have plenty of reason to get track side this Sunday.
Finally, the Pirelli MXD class now sees Yamalube Yamaha Racing Team's Northern Queenslander Mitchell Evans in control after a slow start to the season - however only three points behind in the title chase is Husqvarna's Connor Tierney in second position, and only nine points behind Tierney is MXD rookie Wade Kirkland in third, setting up this weekend's round at Toowoomba as one of the most crucial of the season for the Pirelli MXD class.
So what can fans expect if they're heading to Round 9 at Toowoomba this weekend? One of the most important outings of the series so far this year, riders leaving no stone unturned when it comes to taking out this year's championships, and all competitors aiming for the top step of the podium so they can put themselves in the best position possible to clinch 2016 titles the following weekend at the grand finale at Coolum.
With so much at stake, this weekend's round of the Motul MX Nationals is shaping up to be an event not to be missed. So whether you're heading to the venue, or tuning in to all of the action LIVE on www.nrgtv.com.au, Round 9 at Toowoomba needs to be in your calendar, this Sunday, August 21.
For more information on Round 9 of the Motul MX Nationals at Toowoomba including ticket prices, and schedule head to www.mxnationals.com.au