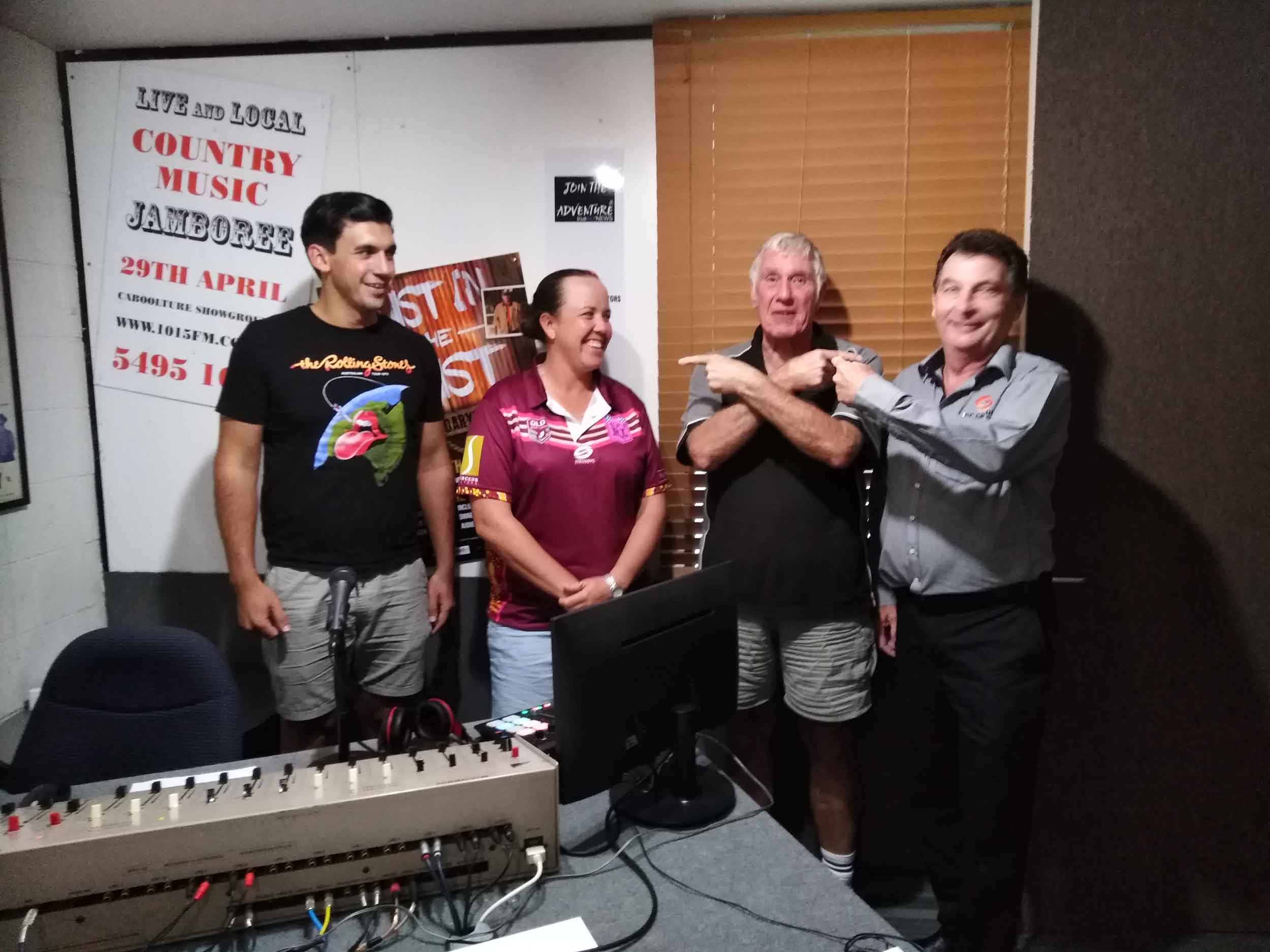 The Grapple On Sport 101.5 2021-04-08
The Grapple: Thursday 8 April 2021
| | | |
| --- | --- | --- |
| Time | Segments | Notes |
| 6.00-6.08 | Segment 1: Panel | |
| 6.08-6.10 | Break | |
| 6.10-6.18 | Segment 1 (continued): Panel | |
| 6.18-6.22 | Break | |
| 6.22-6.28 | Segment 2: Macca phone interview with panel –Macca's got 2 minutes for his 1 minute segment tonight!! | |
| 6.28-6.30 | Break | |
| 6.30-6.38 | Segment 2 (continued): Macca etc. | |
| 6.38-6.42 | Break | |
| 6.42-6.48 | Segment 3: Panel | |
| 6.48-6.50 | Break | |
| 6.50-6.59 | Segment 3 (continued): Panel | |
| 6.59 | Sign-off | |
Segment 1
Vale a legend of rugby league Tommy Raudonikis after 70 year old Tommy passed away yesterday after a long battle with cancer.
Raudonikis was one of the most colourful lives the game has seen. The former Western Suburbs and Newtown halfback represented Australia in 29 Tests and World Cup matches, and NSW on 24 occasions.
His last appearance for the Blues saw him lead them in the inaugural State of Origin match in 1980, but he is arguably best remembered for the "cattle dog" cry he coined as NSW coach in 1997.
The same take no prisoners approach gave the game one of its most enduring images – he and Magpies teammates slapping each other pre-game at the height of the famous Fibros v Silvertails rivalry with Manly.
Tommy was one of a kind. There will never be another Tommy Raudonikis.
Upon hanging up the boots after 238 premiership appearances for Wests and Newtown, Raudonikis coached on at Brisbane Norths and Ipswich, where youngsters Allan Langer and Kevin Walters came under his tutelage.
He returned to coach the Magpies once more in 1995 and helped bring the club back into finals contention again, earning himself the NSW coaching gig for two series as a result.
In 1997 the "cattle dog" cry came to the fore, prompting the Blues plans for an all-in brawl to begin.
When his beloved Western Suburbs merged with Balmain in 1999, Raudonikis stepped back from coaching once and for all.
Reviews:
NRL: Round 4
Panthers d Eagles 46-6;                                              Rabbits 38- Dogs another 0;
Storm 40 d Broncos 6-Ryan Papenhuyzen 4 tries;     Sharks 48 d Cowboys 10;
Raiders 20-4 over Titans;
Dragons 22 d Knights 13-ut 3 out of now for the Dragons; loss of Knights Mitchell Pearce severe blow;
Roosters 32 d Warriors 12
Eels scrapped home against the Wests Tigers 36-22
Topics:
·         Wayne Bennett has told South Sydney powerbrokers he will return to Queensland at the end of the year giving rise to the notion he could return to the Broncos to help Kevin Walters rebuild the club. Despite plans to use the master coach in another role at Redfern, the legendary mentor confirmed he will move permanently to Brisbane by Christmas this year. He has received interest to coach Brisbane's second NRL team from 2023.
Cronulla Sharks veteran Aaron Woods says the club will struggle to re-sign and lure players if the board doesn't make a decision soon on the future of coach John Morris. Morris, who is off contract at the end of this year, has led the club to back-to-back finals appearances since taking over from Shane Flanagan at the start of the 2019 season. The Cronulla coach's future has been a hot topic as of late, with Morris currently unable to convince CEO Dino Mezzatesta and the board that he's worthy of a new deal
South Sydney halfback Adam Reynolds looks set to head to the market and test his value after knocking back a two-year extension to remain at Redfern. Reynolds, 30, has been at loggerheads with the Rabbitohs over the past few months surrounding the length of a contract extension, with the veteran looking for a multi-year contract to stay at South Sydney.
After only offering up one-year deals, the Rabbitohs yesterday put to Reynolds' manager Steve Gillis a two-year contract extension with an option in the club's favour for 2023 worth $700,000 per year, but that deal was knocked back. Reynolds' manager informed club officials that the 2014 premiership winner would begin negotiating with rival teams.
Sydney Roosters skipper Jake Friend is set to retire effective immediately with the 31-year-old making the tough decision after copping one concussion too many.
Good news for the Warriors who are now committed to bringing NRLback to Auckland for the first time in two years after the introduction of a trans-Tasman bubble for quarantine-free travel between Australia and New Zealand from April 19.
The Brisbane Broncos' highest paid player is off contract at season's end, and Kevin Walters believes Anthony Milford has not done his contract renewal hopes any favours.
Despite being dropped from the Cowboys' best 17, young half Jake Clifford won't be released to the Knights this season. The 23-year-old has signed with Newcastle from 2022, but the club has been hoping to bring him to the Hunter early. They've now amped up their chase after halfback Mitchell Pearce suffered a pec injury last Sunday which will see him sidelined for 10 weeks.
There's not much to celebrate at Brookvale at the moment, but in some good news for the club, workhorse forward Curtis Sironen is set to re-sign.
·         The NRL and Stadium Australia have started a probe into fan at behaviour after the Bulldogs' Good Friday loss to South Sydney.It comes after footage circulated of Bunnies mascot, Reggie the Rabbit, being roughed up by supporters in the wake of Souths' 38-0 win.
Queensland Rugby League in partnership with PacificAus Sports (Australian Department of Foreign Affairs and Trade - DFAT), Papua New Guinea Rugby Football League and the PNG Hunters has committed its expertise and resources to a three-year program.
Titled 'Growing and Supporting Rugby League in Papua New Guinea', the program is part of an Australian Government initiative connecting people, communities and organisations with the Pacific through sport.
Specifically, the objectives of this program are to develop pathways for PNG teams to play in high-level Australian sporting competitions. GREAT INITIATIVE.
Segment 2: 6.22-6.28: Macca and panel
Vale a legend of rugby league Tommy Raudonikis after 70 year old Tommy passed away yesterday after a long battle with cancer.
Macca's 2-Minute segment and summary of NRL round 4
NRL head of football Graham Annesley conceded referees could be placed under further pressure as he backed the introduction of the 18th player rule this week.
The ARL Commission gave NRL clubs the green light to use any player from their top 30 squads as an 18th player, beginning this weekend, if a team is affected by foul play or three failed head injury assessments during a match.
An 18th player will only be able to take the field when three players fail a head injury assessment or when a player suffers a match-ending injury caused by foul play, in which the opposing player was either sin-binned or sent off.
The 18th player will wear a replacement vest on the interchange bench and a specific card will be used to indicate his activation into the game
Should a third player suffer an HIA in the final 15 minutes of a match, if the club's medical officer deems a player cannot return to the field of play, the club's medical officer will need to advise NRL staff on duty at the ground. However, the affected team would need to be required to use an interchange to activate the 18th player.
An 18th player must be confirmed one hour before kick-off. However, if a starting 17 player is injured in the warm-up, the 18th player would need to seek an exemption from the NRL's medical officer at the ground to replace the injured player. The affected team could also call upon their 19th man.
A match fee for the 18th player will be paid by the NRL but is only payable when that player is activated into the game. The match fee is not included in salary cap.
Any bonuses or ratchet clauses triggered by the 18th player being used on the field will count in the salary cap
ARLC boss Peter V'landys has hinted at a return for the national under-20's competition as a solution to help fix competitive balance in the NRL. "We want under-20s and reserve grade coming back as a precursor in front of the game.
English Super League: St Helens, Hull FC, Wigan, Castleford and Catalans all 2 from 2
Segment 2 (continued): 6.30-6.38
Preview and selections round 5; match officials – any surprises?
Round 5:

Tonight: Master and apprentice with Rabbits/Wayne Bennett v Broncos/Kevvie
Tomorrow night: Warriors/Eagles and Panthers/Raiders- can Panthers make it 5 from 5?
Sat: Titans/Knights, Dogs/Storm and Roosters/Sharks
Sun: Tigers/Cowboys and Eels/Dragons- likewise can the Eels make it 5 from 5?
Segment 3: Panel
Follow up to Macca and panel selections etc.
Round 5
| | | | | | | |
| --- | --- | --- | --- | --- | --- | --- |
| Game | Macca | Kel | Amy | GA | Jimmy | Mal |
| Rabbits/Broncos | | | | | | |
| Warriors/Eels | | | | | | |
| Panthers/Raiders | | | | | | |
| Titans/Knights | | | | | | |
| Dogs/Storm | | | | | | |
| Roosters/Sharks | | | | | | |
| Tigers/Cowboys | | | | | | |
| Eels/Dragons | | | | | | |
Sunshine Coast Gympie RL: Round 4-action resumes after the Easter break
1 Men Sat- Maroochydore/Nambour; Gympie/Caloundra; Beerwah/Caboolture and Sunday it's Noosa/Kawana; Stanley River - bye
Open women round 2 this Saturday –Gympie/Caloundra, Beerwah/Caboolture and on Sunday Noosa/Kawana; Nambour - bye
QRL:
ISC Cup-Round 3: Sat at SC Stadium Falcons v Jets at 2.40pm and Dolphins v Capras at Redcliffe 6pm
The opening round of the women's Premiership for season 2021 has finally arrived and all teams are excited to be heading out onto the field-8 teams in action.
Men's Brisbane A-Grade also starts this weekend- 4 games