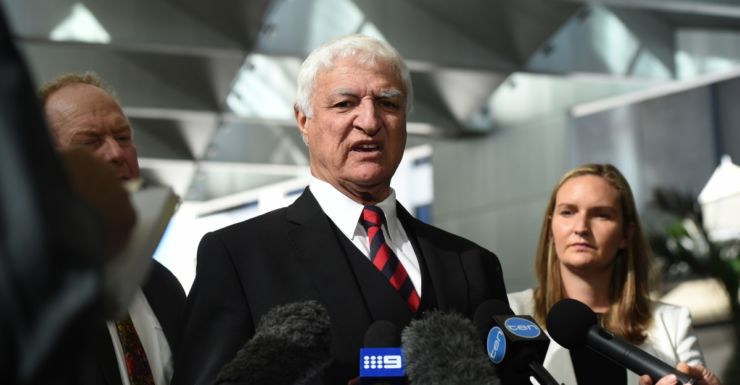 Federal Election 2016: The Turnbull-Katter government … with no union bashing
Coalition nears majority thanks to outspoken MP, but there are strings attached.
After face to face talks in Brisbane, caretaker Prime Minister Malcolm Turnbull has secured the support of north Queensland independent Bob Katter.
Mr Katter emerged to tell the media: "We're announcing our support for both supply and confidence for a Turnbull government."
The House of Representative chamber support was conditional and Mr Katter said he reserved the right to change course at a moment's notice.
"If there is the slightest hint of union bashing I can assure you, all bets are off," he said. "If I can put somebody in … I can put them out."
Mr Katter said employees had the right to union representation in their workplace through enterprise bargaining.
Mr Turnbull welcomed Mr Katter's support which, at this stage, does not come with any announced strings, while the two have discussed water infrastructure, Galilee Basin rail transport for coal export and job creation projects for Mr Katter's huge Kennedy electorate and northern Australia.    
"I am very confident, very confident indeed, that we will form majority government, government in our own right," Mr Turnbull said.
While the Prime Minister's confidence is noted, it may take many more days and re-counts of votes in remaining doubtful seats before the election result is finally declared.
Mr Katter's announced support will be crucial to Mr Turnbull's future, whether as a majority or minority government.
Mr Turnbull needs a bare 76 seats to govern in his own right but, in the event of dissidents within his own Liberal Party, support from friendly independents may become decisive.
Until there is confirmation of the election result, Mr Turnbull is continuing negotiations with other independents including the Nick Xenophon Team, which will send Mayo candidate Rebekha Sharkie to Canberra.
Triple A now formally at risk
Australia is on credit probation.
The nation's political uncertainty and falling iron ore prices have prompted ratings agency Standard & Poor's to re-list its credit outlook from "stable" to "negative".
Australia is one of only nine countries to have a AAA credit rating from all three agencies: S&P, Moodys and Fitch.
At a Thursday news conference, Treasurer Scott Morrison called for "sober reflection" on Australia's economic prospects in the context of budget repair.
Mr Turnbull said: "S&P has reminded us that budget repair and responsible public finances are absolutely critical."
S&P also placed on credit watch Australia's big four banks, which carry substantial customer mortgage debt.
Shadow Treasurer Chris Bowen, in an interview with the ABC's Fran Kelly, offered Labor's assistance with budget repair measures consistent with its election policy manifesto in the event of minority or slim majority government.
Mr Morrison has said the credit warning was timely but the government and the parliament had time, perhaps two years, to address the structural measures needed to make sure the government lived within its means.
Source: TND