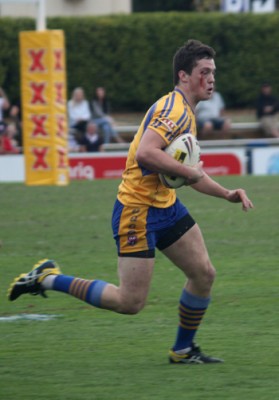 Dayboro Cowboys and Samford Stags seek more trophies
The Dayboro Cowboys are three-quarters of the way through sweeping all six trophies up for grabs this Brisbane Second Division rugby league season.
Defeating the Pine Central Holy Spirit Hornets 31-18 to claim the mid-season Ted Beaumont Cup last month took the Cowboys' trophy haul for 2016 to four.
Dayboro won three pre-season trophies, including the four-team Pine Cup and the Steve Small Memorial Trophy, contested by the Cow-boys and Hornets in honour of the late coach of both clubs.
Also in February, Dayboro won the Jack Lawson–Earl McDonald Shield, contested annually by Dayboro and Samford Stags.
Dayboro is now on track to challenge for the two biggest prizes of the season: the Northside 1 minor premiership and grand final trophies.
The Cowboys lead the eight-team competition by four points ahead of second-placed Moreton Bay Pride on the ladder.
Dayboro officials were searching for the record books after the Cowboys thrashed Banyo 74-0 in its last home game.
With one trophy already in its possession this season, the Samford Stags lead the 10-team Northside 2 competition by three points ahead of Norths St Josephs.
Samford beat Norths Juniors 16-14 in the mid-season Ted Beaumont Trophy final at Coorparoo in May.
The Stags beat Brighton Roosters 24-4 last weekend.
Currently on a five-game winning streak, Samford hosts Norths St Josephs in its last home game for the year at Alan Cash Oval on 9 July at 4pm.
Dayboro, which drew 22-22 with Pine Rivers Bears last start, is at home the next two weeks.
The Cowboys face Pine Central Holy Spirit at Pete Albrow Oval on 9 July and Wests Mitchelton on 16 July.
Kick-off for both games is 4pm.
Source: The Westerner