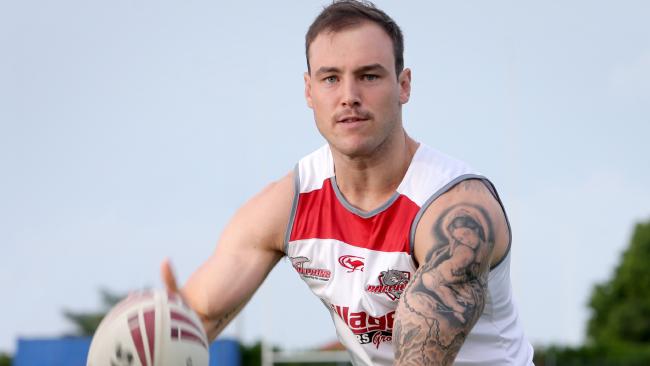 Top four clash between the Redcliffe Dolphins and Bowen's Blackhawks headlines Round 14
Adam Mogg has issued a call to arms to Redcliffe Dolphins fans to turn out in force and cheer their boys on in what shapes as the toughest test of the season against Townsville on Sunday.
While the Dolphin Oval faithful will be keen to see those in the red and white prove their premiership credentials, many eyes will equally be on former North Queensland Cowboys and Queensland star Matt Bowen, who will line up for his third game for the Blackhawks.
Bowen is coming off a man-of-the-match performance against Norths last weekend, but Dolphins fullback Jack Ahearn has been in equally good form in successive weeks for the home side.
Mogg said it was great to see fellow former Origin star Bowen return to the Intrust Super Cup and admitted his side would have their hands full, if they can catch him.
"I'm really looking forward to watching him run around this weekend. I think it's great that he's playing and I think it's a really good way for him to close out his football career," he said.
"We've got to focus on what we can do but certainly they need to focus a bit on what Matty can do. They've got strikepower all across the park."
The Dolphins have been cursed with more injuries this week. Brandon Lee has failed his concussion test after a brutal high shot last week, while bench utility Christian Hazard has also succumbed to injury.
Regular starters Anthony Cherrington, Aaron Whitchurch and Chris Gesch are also still missing, so Mogg said it was important for the fans to turn out in their numbers to give the Dolphins a lift.
The match kicks off at Dolphin Oval at 2pm.
NORTHS DEVILS (12th) versus IPSWICH JETS (13th) — Saturday, 6pm at Bishop Park
WITH Ipswich languishing in second last and Norths sitting just one spot higher, Saturday's battle a Bishop Park is must-win for both sides.
Ipswich's premiership defence is in disarray with just four wins from 13 games, with seven points now separating the Jets from the top six after falling to Tweed Heads 22-12 on Sunday.
The Northern Pride scraped into sixth place in 2015 with 32 points, but even nine-straight wins (and two byes) to finish the season would only get the Jets to 30 competition points.
Norths' predicament is slightly better, with the Devils (11 points) only two wins adrift of sixth-placed Sunshine Coast.
They were brave in a 32-12 round 13 loss to Townsville on Sunday, but will need to add polish to their determination.
Lachlan Maranta will start at fullback for Norths after being dropped by the Broncos.
EASTS TIGERS (5th) versus TWEED HEADS SEAGULLS (10th) — Saturday, 5pm at Langlands Park
EASTS Tigers coach Scott Sipple says his team "owe" the Tweed Heads Seagulls after a loss in the opening round of the Intrust Super Cup season.
The Tigers will also be looking to rebound from a 20-12 loss to the Burleigh Bears last week where Sipple's team let an opportunity to maintain second spot on the ladder slip.
But the rookie coach said his side would be itching to get back on the field on Saturday at Langlands Park.
"I expect the boys to want to make amends for our last game, we were flat, had no energy and there's no excuses for that," Sipple said.
"Tweed Heads are a good side and they beat us in Round 1, so we kind of owe them."
Brent Warr returns to the Tigers team, replacing the injured Billy Walters.
PNG HUNTERS (4th) versus SOUTHS LOGAN MAGPIES (9th) — Saturday, 6.30pm at National Football Stadium, Port Moresby
A TOUGH trip to Papua New Guinea awaits as the Souths Logan Magpies attempt to stretch their unbeaten streak to five.
Although that four-game period includes two draws, the Magpies are just three points behind the Sunshine Coast Falcons for sixth spot.
But in order to stretch their streak, Souths Logan will have to deal the Hunters their first home loss of the season — a task that coach Josh Hannay believes they are more than capable of completing.
"It's going to be a huge challenge but I feel really good about our chances," the former Queensland centre said.
"We'll be going with close to our best 17 players and I'd say the past four weeks has probably been our best month of football since I've been at the club."
Young dummy half Bradley Frith has been named to start at hooker with Travis Waddell recalled to the Brisbane Broncos side to take on the Canberra Raiders. But hulking prop Herman Ese'ese will provide a boost to Souths Logan's forward pack after a stint in Wayne Bennett's side.
BURLEIGH BEARS (2nd) versus WYNNUM MANLY SEAGULLS (8th) — Sunday, 1.40pm at Pizzey Park *Channel 9*
DEFENCE is the priority for the Wynnum Manly Seagulls this weekend as they prepare to face a high-scoring Burleigh Bears side.
The Seagulls are coming off their first loss in six weeks after being beaten 16-10 by the Sunshine Coast Falcons but coach Jon Buchanan said the Bears would be a huge challenge.
"This week, we will really see where we are at," he said.
"Our defence has been pretty good recently and I thought it was good on the weekend again but we will need to be great against Burleigh because they have plenty of points in them.
"They're the form team of the competition along with Townsville."
Burleigh have scored 368 points so far this season, only trailing the Townsville Blackhawks who have recorded 428. The Seagulls have just 302 points after 12 games but were hard to contain during their recent five-game winning streak.
NORTHERN PRIDE (7th) versus SUNSHINE COAST FALCONS (6th) — Sunday, 3pm at Barlow Park
SUNSHINE Coast Falcons coach Craig Ingebrigtsen says his side is in for a "dogfight" up against Northern Pride this Sunday.
Both teams are precariously teetering in mid-table on the Intrust Super Cup ladder, making it a huge game for both sides.
The Falcons, currently in sixth, play three teams above them in the next four games following this clash in Cairns, in what will be a true test of their premierships credentials.
"We're going to have to go there and work really hard to go up there and come away with a result," Ingebrigtsen said.
"It's always tough going up there. I know Joe O'Callaghan will be getting his team up for a really big game."
Joe Stimson, who excelled with goalkicking duties last week, has picked up a one week suspension for a dangerous tackle against Wynnum Manly last weekend, paving the way for the timely return of Mark Nicholls.
Source: Quest News